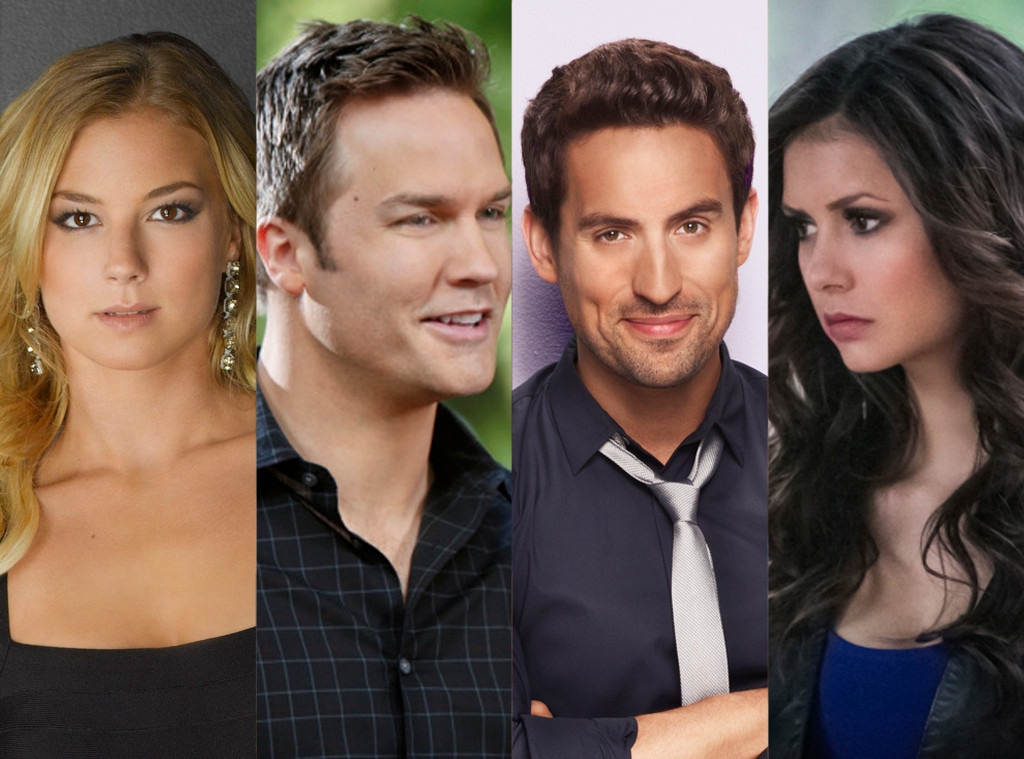 ABC/CW/Fox/CW
How much danger is Emily really in on Revenge? According to Emily VanCamp, quite a bit.
After watching the chilling promo for season three, we had to get scoop from Emily Thorne herself and her sidekick Nolan (Gabriel Mann) about what's really happening when the show returns in the fall. And for you Damon (Ian Somerhalder) and Elena (Nina Dobrev) shippers, you might want to take a peek at some info we've stumbled across. All that, plus Pretty Little Liars, Hart of Dixie, Mindy Project and more in this edition of Spoiler Chat:
Phoebe: Clearly, Emily is faking her own death this season of Revenge, because there is no way they would kill off the star, right?
We wouldn't be so sure about that. Emily VanCamp did tell us that this season is "the beginning of the end of Emily Thorne." Ominous, no? True, it's a long shot that ABC would ever get rid of their leading lady, but it sounds like the writers do have some old tricks up their sleeves. "It's going back to season one," VanCamp says, adding that the love square or "rhombus" is back in full force. "It refocuses her conflict with the Graysons," she reveals. As for Nolan, Gabriel Mann tells us that his character's new trend this season will be "orange for prison jumpsuits." Orange Is the New Nolan? We dig it.
@iStanforSmolder1h: Some #Delena scoop? #tvdS5
Something will affect their relationship big-time in the first half of the season. And it's not a supernatural element getting in the way of Delena happiness. 
Kia: I'll get to the point. Mindy Kaling is my hero, so I'd love some spoilers on her show.
We don't blame you. And we anticipate that the new season of The Mindy Project will be better than ever. Here are some tidbits we know about season two. Jeremy will still be holding on to some of those extra pounds, and a certain someone will not let him hear the end of it. That someone is his father. Yep, we'll be meeting Jeremy's dad in the beginning of the season, and he will not be able to resist poking fun at his son's soft midsection. Parents! They're the worst, right?
Keegan: Any romance scoop on Teen Wolf?
Anyone else shipping Mama McCall and Sheriff Stilinski? 'Cause we are! And yes, executive producer Jeff Davis is aware that fans want to see BFF Scott's and Stiles' parents get together. "We have talked about that. We've talked about it a lot in the writers' room," he tells us. "We're not sure yet. though. I can say maybe, maybe not. If the chemistry builds and it's there, who are we to stop it?" What's that sound? It's the sound of the wind hitting that ship's sail, hey-o!
@Reneebrown84: What is going to happen in Hart of Dixie, Parenthood or Castle? Ahhhh, withdrawals going on! #spoilerchat
Eenie, meenie, miney… Hart of Dixie! By episode five, we'll be meeting a number of new Bluebell residents, including Maisie, a gossipy tween who less interested in school and is more interested in Zoe and George's love lives. There's also a new member of the Belles sashaying into the group, tulle and all. Sadie is a bubbly yet quick-witted southern sweetheart who takes her position as one of Bluebell's elite very very seriously. 
Angela: Anything Pretty Little Liars-related will make my day!
Red Coat may still be on the loose, but that's not the only problem that the liars will be facing when the show returns in January. It's easy to forget, but in between their text-message tormenting, our pretty little foursome are still in their senior year of school. And who is feeling the brunt of the scholastic pressures? Spencer, of course! Cue Brenda, an academic overachiever with a dirty little secret for her success. She's willing to share of course, but only for a hefty price. Let's just say that soon Emily won't be the only Rosewood student with a history of popping pills. 
@Coffee2Go_Girl2m: Any White Collar scoop would make me happy! (Anything on Peter getting out of prison would make me VERY happy!)
You would think that Peter would be giving Neal the silent treatment for that whole murder charge thing, but we hear by the middle of the season at the latest, Peter will not be in prison and the guys will be back on speaking terms. Those speaking terms might be of the angry and pissed off persuasion, but speaking terms nonetheless.
Chloe: That teaser you guys shared for Ravenswood was soo good! I can't wait to finally see how creepy that town really is! Any scoop to tide us till October?
According to Ravenswood creator Marlene King, the mysterious new cast is gearing up for their first official day of filming for the highly anticipated pilot, but we're already focusing all our attention on the second episode! Why, you ask? Brace yourselves, PLL fans, because it looks like Ravenswood is going to be a billion times darker than those silly antics we've been following in Rosewood. Prepare to meet Olivia and Luke's mother, Rochelle Matheson, a once confident woman who is now the main suspect in her husband's murder. Damn! They're really not messing around in Ravenswood…