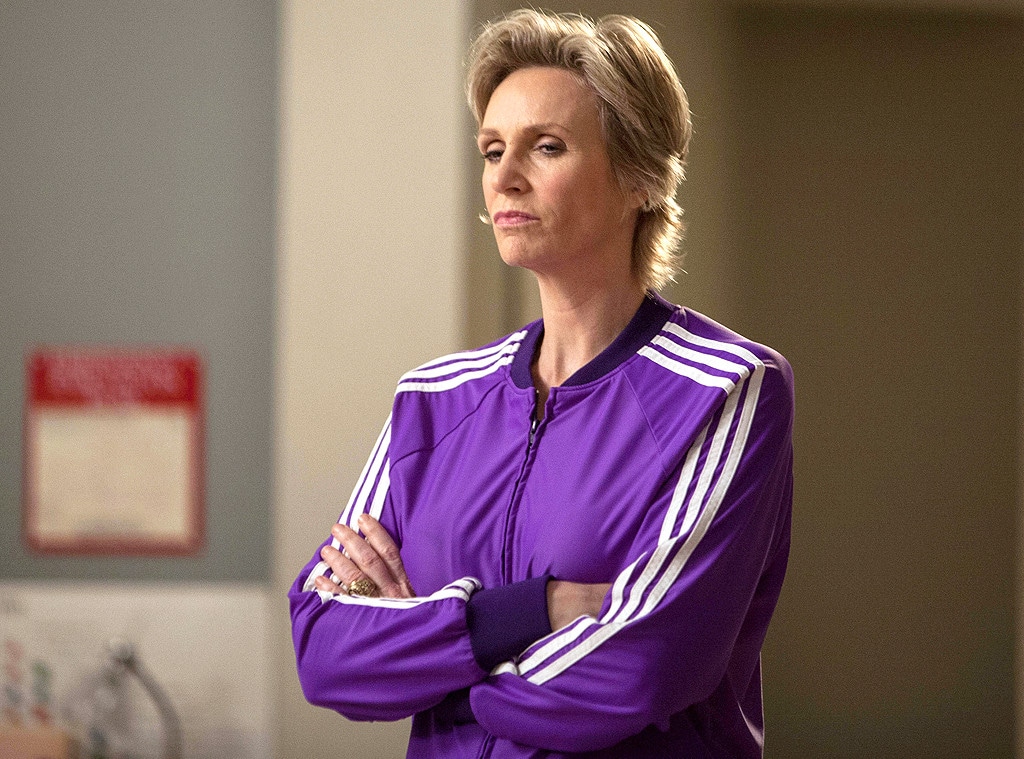 Courtesy of FOX
UPDATE: Lynch tweeted on Wednesday that she has read the tribute episode and called it "the most beautiful thing."
This one's gonna leave a mark.
The Glee cast is just days away from starting production on episode three of the new season, also known as the emotional tribute to Cory Monteith. And Jane Lynch tells E! News at the Television Academy Performers Peer Group Reception she isn't expecting it to be easy.
"It's gonna be awful," Lynch says of filming the episode that centers on the death of Monteith's character Finn. "It's gonna be terrible. It has to be done but it's gonna be awful."
Lynch tells us, "We haven't started yet and I think we start on Friday. I haven't seen the script yet."
Glee boss Ryan Murphy has said that the episode will deal directly with Finn's fate, but that the character will not die of an accidental overdose, as Monteith did, tragically, in real life on July 13 in Vancouver. "Basically, what we're doing is we're not telling you yet, or maybe at all, how the character died," Murphy said.
Glee has had a counselor on set during the first few weeks of production to help the cast through the grieving process. The first two episodes back will be a Beatles tribute, then the Cory/Finn tribute, and then the show is expected to take a break [lined up with a scheduled programming break for baseball on Fox] to regroup before moving forward with the fifth season.
On a lighter note, Lynch was thrilled to hear the news that Demi Lovato would be joining the cast this season to play a new friend of Rachel's (Lea Michele) in New York.
"I have no idea if I'm working with her at all," Lynch says of Lovato. "I hope so! I have no idea what her storyline is but I'm happy she's with us."
When asked if she's a Demi Lovato fan, Jane laughs: "I don't know her [music] very well. I'm an old lady! I know she went out with Joe Jonas and he broke her heart. And she seems to be doing fine. I know everything about the Jonas Brothers, OK!" Good to know!
When asked what she will miss most about Cory, Jane says with a smile, "His dimples. His smile. So cute."
Our thoughts continue to be with the entire Glee cast during this difficult time.
—Reporting by Marc Malkin
(Originally published on Wed., Aug. 21, 2013 9:33 AM PDT)