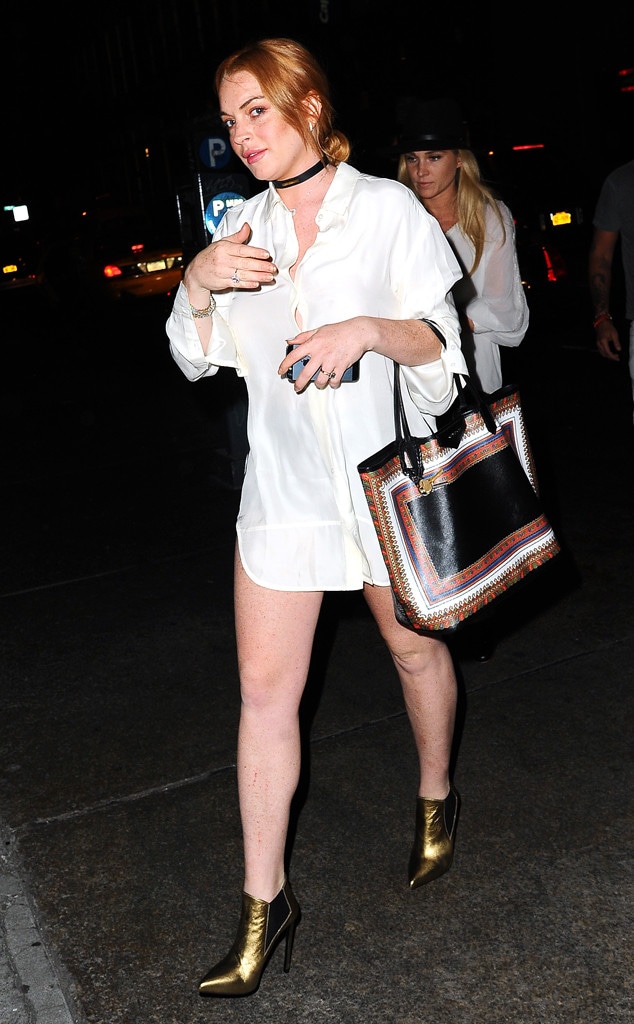 Raymond Hall/FilmMagic
No pants? No problem.
Lindsay Lohan opted for a trousers-free look on Tuesday, Aug. 20, in New York City when she grabbed dinner at ABC Kitchen in Soho with hotelier pal Vikram Chatwal.
Ms. Lohan's bare-legged look was balanced out by her flashy accessories: a pair of metallic gold, high-heeled ankle boots; a black bag adorned with colorful, patterned trim; and jewelry that included a black choker. Her long (and yes, bum-covering) blouse was a simple, off-white silk button-down.
The Canyons star, who completed her court-mandated 90-day stint in rehab just last month, is looking forward to getting her life and career back on track. In an interview with Oprah Winfrey that aired Sunday on OWN's Next Chapter, the former Disney star said she's eager to "get the thing that's made me the happiest my whole life back, which is just work really hard and stay focused and prove myself."
"It's a process of growing up and recognizing and being just so tired and exhausted by the chaos," she explained of her past troubles in the spotlight. "I have had no right in my past to complain about being followed by cameras and people making up stories, but there's something to be said about me moving forward that if I'm going to put myself in a public situation—that's open season for people to say what they're gonna say. I can't control that but I can control not putting myself there."
Go, girl: Show those Regina Georges who you really are.