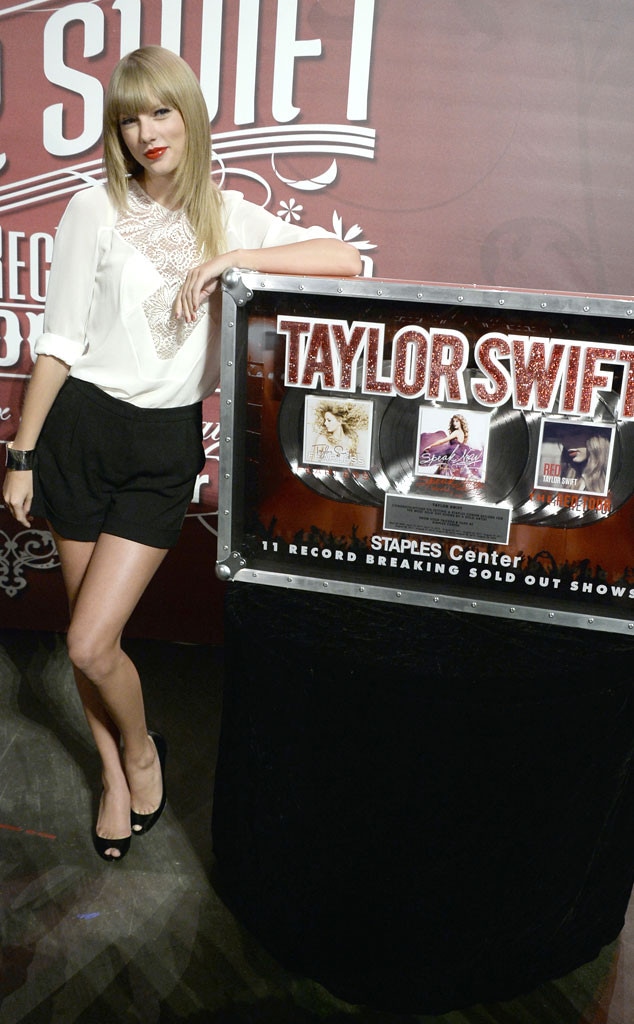 Kevin Winter/Getty Images
Imma let you finish, but Taylor Swift has the most sold-out Staples Center shows of all time! (Actually, no disrespect: She is tied with the Latin pop group Mana for having sold out 11 shows at the L.A. concert arena.)
Naturally, the Staples Center wanted to celebrate T.Swizzle's popularity, and on Tuesday, Aug. 20, the 23-year-old country-pop star was honored with a commemorative plaque and an inscribed silver wrist cuff.
She also shared some of her success with a group of 20 college students taking part in the Recording Academy's GrammyU program, all of whom were invited to sit in on her sound check and get a backstage tour ahead of  Tuesday night's show.
"It's been fun having you guys here for sound check! Usually that's just something we do every day, but having you here made it a little bit more special," she said. "It's been so exciting to show you what we do, and hear from your perspective the things you're curious about."
She also had a surprise for the GrammyU participants. "These are sold-out shows, but I held back 20 tickets if you wanted to come tonight," she said. "You know, if you're not busy!"
"I'm very happy to have you guys," she added sweetly.
Those students—and all of Tuesday's concertgoers—were in for another surprise when Tegan and Sara joined Taylor onstage to perform "Closer."
"We vote Taylor for president," the girl group tweeted after the show. "What a #heartthrob"