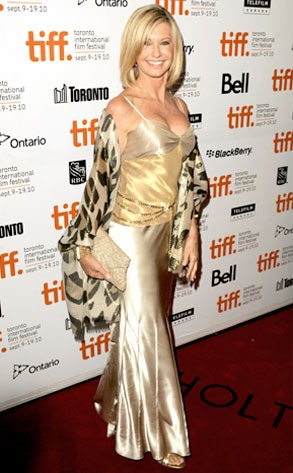 Jason Merritt/Getty Images
Olivia Newton-John has braved her share of bumps in the road.
Most recently, police were called to the star and husband John Easterling's Florida home while the couple was out of the state and upon arrival, discovered a 42-year-old man dead from a gunshot wound. An autopsy revealed that the guy, who was hired as a contractor for the couple, had shot himself, according to the Jupiter Police Department.
So weird! But this is just one more random thing to add to the list of oddball occurrences that have punctuated Newton-John's life:
Beating Cancer: Here's an unequivocal positive. In 1992, the Grease star was diagnosed with breast cancer and she underwent a mastectomy. Over 20 years later, Newton-John remains cancer-free and is now a strong advocate on behalf of breast cancer survivors and is the product spokeswoman for the Liv-Kit, which enables women to perform self-exams.
Her Boyfriend Disappears: The actress began dating cameraman Patrick McDermott a year after her divorce from Matt Lattanzi in 1995. After a nine-year, on-again, off-again relationship, McDermott disappeared during a fishing trip off the Californian coast in 2005.
Various theories regarding his disappearance ranged from death by accident or foul play to McDermott staging his disappearance to avoid child support payments to his ex-wife, actress Yvette Nipar. A U.S. Coast Guard investigation released in 2008 "suggest[ed] McDermott was lost at sea," although some had claimed to have had contact with him since his disappearance.
In 2010, it was confirmed that McDermott had faked his own death and was living in Mexico.
Battling Depression: After dealing with these traumatizing events, the celeb revealed to The Times of London that she relied on antidepressants to help her deal with the tragedy of McDermott's disappearance. She said she used the medication for three months following the incident, explaining, "I took them until I could see the light again and never did them again. I didn't want to become dependent on them. That's why I stopped."
Daughter's Eating Disorder: Newton-John's daughter, Chloe Lattanzi, battled with anorexia throughout her teens after her parents split up in 1995. "I suffered from anorexia and that has been the darkest time in my life and I used music to express it and get through it," Chloe said in an interview in 2008.
"She has had to battle this problem in front of the world, being judged and photographed by paparazzi, and it was hard," Newton-John said at the time.
Scary Flashback: It seemed like the past was coming back to haunt her, when Newton-John's daughter went missing in Miami. After a night of partying and drinking with friends, the young pop singer was nowhere to be found. Miami Police conducted a search and Olivia drove to the city to help her daughter's friend figure out what happened.
Luckily, Chloe called a friend 12 hours later: "She woke around 2 p.m. in a strange apartment, disoriented and with no recollection of the evening's dramas. When she was able to call me, she was in tears and felt devastated that she had put us all through this," the friend said in an interview.
"No one was angry with her. We were just so relieved, no one more than Olivia, who exchanged a few private words with her and then thanked the police for everything they'd done."
Sister's Death: A couple of months ago, the star lost her older sister, Rona Newton-John, at age 70 to an aggressive brain tumor that had just been diagnosed a month beforehand. "My beautiful sister Rona sadly passed on May 24th in Los Angeles. It was May 25th in Australia - which was our mother Irene's birthday," she wrote on her Facebook page.
"Rona died of a very aggressive brain tumor and mercifully suffered no pain. She was surrounded by the love of her four children - Fiona, Brett, Tottie and Emerson, and her wonderful friends," she continued. "I will miss her forever - my beautiful, smart, talented, funny, brave sister Rona."