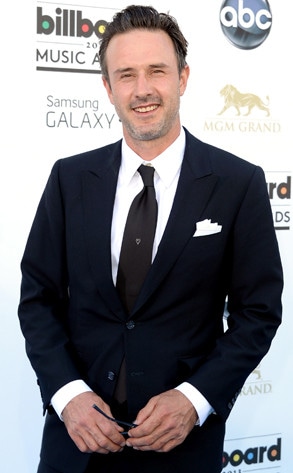 Jason Merritt/Getty Images
After two years and four months of sobriety, David Arquette is drinking alcohol and smoking "a little weed" again.
But he says he's dealing with it.
"My problem with being honest with you and talking to you is that people are going to take all this and just be cruel with it," Arquette lamented this morning during a phone chat on The Howard Stern Show, in which he admitted to his longtime pal Stern to being off the wagon.
"The whole game of life, I got it. It's called the kindness game and kindness is the new currency," the 41-year-old actor continued. "Love is the new currency. People are so cruel to each other throughout the world, everyone is always, like, trying to get over on someone else. And it's really about being kinder."
Asked by Stern whether he could stop at one or two drinks or was more likely to finish a whole bottle, Arquette just said, "I'm a drinker, so I drink a lot."
The Scream star spent 28 days in rehab in 2011, a few months after he and now ex-wife Courteney Cox first separated.
Asked if he was also smoking marijuana again, he said, "Yeah, I'll smoke a little weed. I don't really want to get into all that, because the problem is people are going to take this and start talking about it."
"I'd been sober for two years and four months and feeling that I wasn't being that true to myself, like what I enjoy and this and that," Arquette said.
Cox, he added, is "super cool" and "everybody's getting along and understanding...We're practicing what I'm talking about, we're being kind and loving to each other." He and his ex are parents to 9-year-old daughter Coco.
A source tells E! News, meanwhile, that Arquette has been "partying a lot and Courteney is really concerned about him."
"He is such a wonderful guy," the source added, "but he finds it difficult to balance these things, as do most people who have had problems in the past. It's not a good idea for him to be drinking again, and everyone is very worried about him. But unless he wants to stop there's really nothing anyone can do."
Arquette told Stern, meanwhile, that he knows he has some work to do.
"I'm afraid to be honest with like you and with the world, because people like are so cruel at this time," he said. "I got my own problems, yes, and I will sort them out. I go to a therapist, I really am working on myself. I'm trying to discover what it is, this is a big part of it, me figuring out this kindness game."