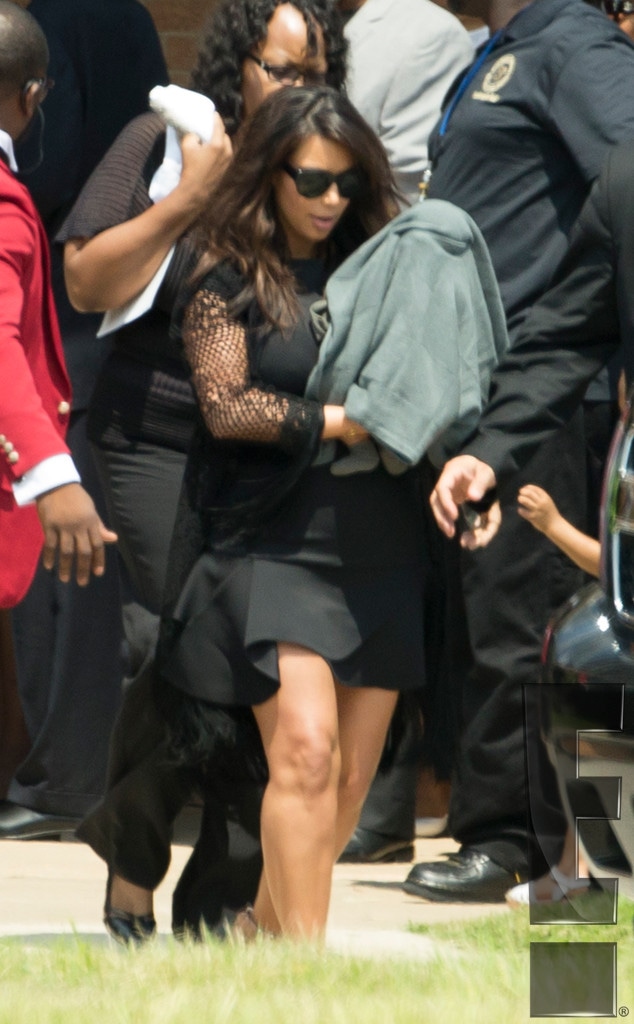 Splashnews.com
Well, hello there, Kim Kardashian—and baby North West!
The E! star stepped out for the first time on Saturday, Aug. 17, carrying her and Kanye West's 2-month-old daughter. Mom and Nori, who have been keeping a low profile since Kim gave birth June 15, emerged from seclusion to attend the funeral of Kanye's grandfather Portwood L. Williams in Oklahoma City.
Kim, 32, and Kanye, 36, were paying their respects in the Midwest the same day that Kylie Jenner was celebrating her birthday with a sweet 16 party back in L.A. While they were unable to attend the party in person, Kim did make sure to wish her youngest sis a happy birthday via a recorded video message.
The next night, Sunday, Aug. 18, Kim and Kanye were back on the West Coast, enjoying a "regular family dinner" with the birthday girl, Kendall Jenner, Kris Jenner, Khloé Kardashian Odom, pal Pia Mia, and—oh, yes—Drake, who was the surprise performer at Kylie's fête.
And while this weekend was a pretty active one for the new mom, Kim really has been honing in on her role as a new mom as opposed to being out and about. We've actually only seen her on three additional occasions: When she and Kanye took Nori to a doctor's appointment Aug. 14, when she stuck her tongue out in a three-second Keek on Aug. 6, and when she appeared via a recorded message on mom Kris' talk show Aug. 2.
For more pictures of Kim and baby Nori, though, make sure to tune in to E! News Monday at 7 p.m. and 11:30 p.m..
Plus, don't miss Keeping Up With The Kardashians, Sundays at 9 p.m. on E!