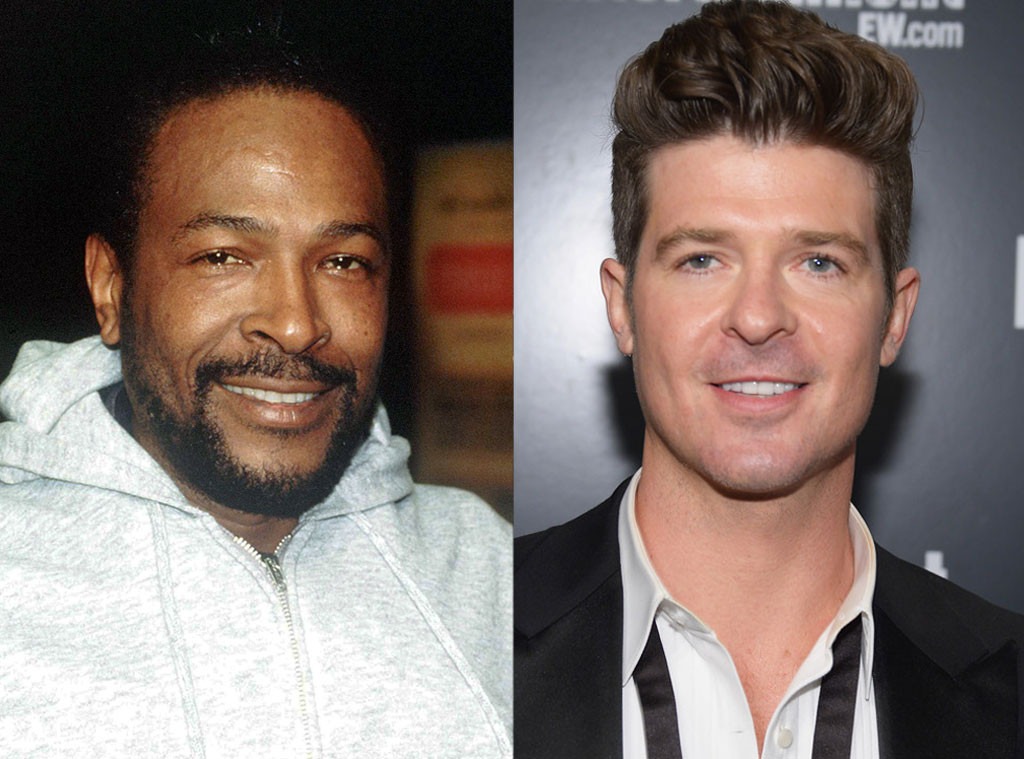 Kypros//Michael Loccisano/Getty Images
Robin Thicke is looking to make one thing clear about "Blurred Lines."
The pop-R&B artist has filed a preemptory lawsuit against two of Marvin Gaye's relatives and Bridgeport Music, looking to quash claims that he borrowed parts of his smash-hit song from Gaye's "Got to Give It Up" and "Sexy Ways" by Funkadelic (Bridgeport owns some of the George Clinton-fronted group's work).
Cowriters Pharrell Williams and Clifford Harris are also plaintiffs.
According to the complaint, filed yesterday in U.S. District Court in California and obtained by E! News, there had been grumblings from Gaye's estate and Bridgeport about the supposed similarities and talk of them possibly going after Thicke for copyright infringement.
Thicke, meanwhile, is not seeking money (other than attorney fees), but rather a declaration stating that "Blurred Lines" does not infringe on either "Got to Give It Up" or "Sexy Ways" and that the Gaye family does not have ground to file suit against him. 
"Plaintiffs, who have the utmost respect for and admiration of Marvin Gaye, Funkadelic and their musical legacies, reluctantly file this action in the face of multiple adverse claims from alleged successors in interest to those artists," states Thicke's suit. "Defendants continue to insist that plaintiffs' massively successful composition, 'Blurred Lines,' copies 'their' compositions."
"Gaye defendants are claiming ownership of an entire genre, as opposed to a specific work," the suit contends, adding that similar unfair comparisons were being made between "Blurred Lines" and "Sexy Ways" as well.
Mark Davis/Getty Images for BET
Marvin Gaye, whose body of work certainly did inspire future generations of "Let's Get It On"-themed tunes, was shot to death by his father in 1984, a day before he was to turn 45.
But "being reminiscent of a 'sound' is not copyright infringement," Thicke's complaint states. "The intent in producing 'Blurred Lines' was to evoke an era."
"There are no similarities between plaintiffs' composition and those the claimants allege they own, other than commonplace musical elements," the suit continues. "Plaintiffs created a hit and did it without copying anyone else's composition."
And Funkadelic's former lead singer appears to agree. 
"No sample of #Funkadelic's 'Sexy Ways' in @RobinThicke's 'Blurred Lines' - yet Armen Boladian thinks so? We support @RobinThicke @Pharrell!" George Clinton tweeted. (There is, however, some bad blood between Clinton and Bridgeport's Boladian—the funk legend recently lost a claim to reacquire the rights to some of Funkadelic's music from the publisher.)
Gaye's son, Marvin Gaye III, who is a defendant in the lawsuit along with siblings Nona and Frankie, exclusively tells E! News that he is "not surprised at all" by Thicke, Pharrell and Harris' suit.
"There is no artist like my dad was. Because of him, he's made it possible for a lot of people to make music. Credit needs to be given where credit is due," he says. "The lack of respect for the Marvin Gaye name is something people think they can get away with. By them suing us, they want us to bow down and give them what they want."
"I have worked closely with the lawyers representing Frankie and Nona, and we agreed we are not going to make statements until we have evaluated the matter and elected to take a course of action," Gaye III's attorney, David Rudich, tells us. "To be courteous to the other lawyers involved, and to comply with understanding, I will not be making any comment at this point."
Thicke's camp had no further comment.
—Reporting by Marcus Mulick