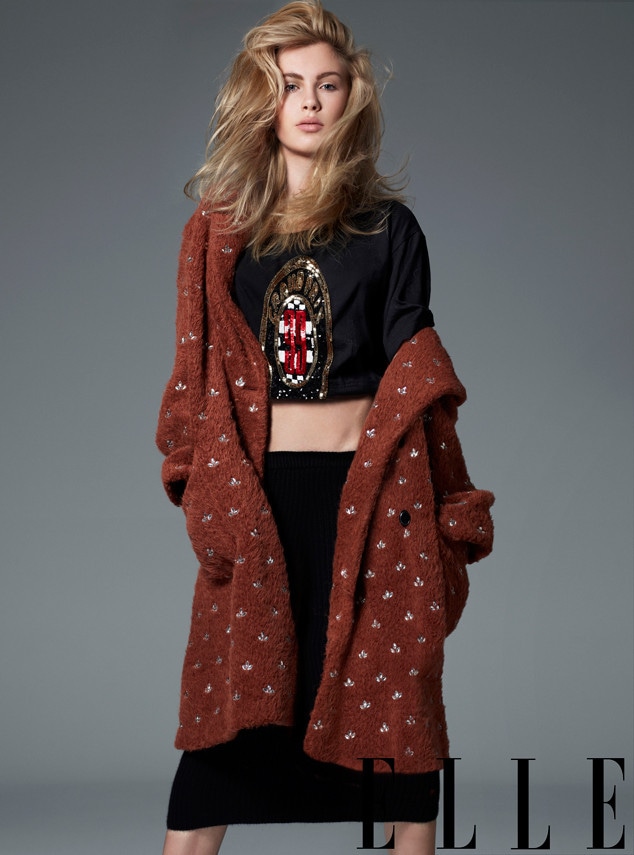 Thomas Whiteside/Elle
Ireland Baldwin's first brush with the press was traumatic to say the least.
At the age of 11, leaked, angry voicemails from her dad Alec Baldwin thrust her into the spotlight.
Understandably she wanted no part of the fame game after that.  "I would look at [my parents] and go, 'Jesus, how miserable is that?' I didn't want to be followed," she shares in Elle magazine's September Issue.
Yet now six years later the model is once again making headlines. This time is due to her massive social media presence. The star is extremely active on Twitter, Tumblr, Instagram, and Vine—accounts she updates nearly 30 times a day!
It probably doesn't hurt that the 17-year-old is a complete blond bombshell either. In addition to having a large online following, Ireland has become the raising star of the modeling world. Although she only just inked a deal with IMG modeling agency in March, she's has already landed a magazine cover and now a full fashion spread in Elle's biggest issue of the year.
She credits her mom Kim Basinger for suggested she try modeling: "She thought it would be good for my confidence," she explains, "because I never thought of myself as a pretty girl."
But that's not the only praise she has for her mama. She says talk about her mom's ageless looks is all true. "She looks like she's my age. Her body, I swear, it's scary."
Mind you, in this case the apple doesn't fall far from the tree. So it's easy to predict that Ireland's got a long career ahead of her.