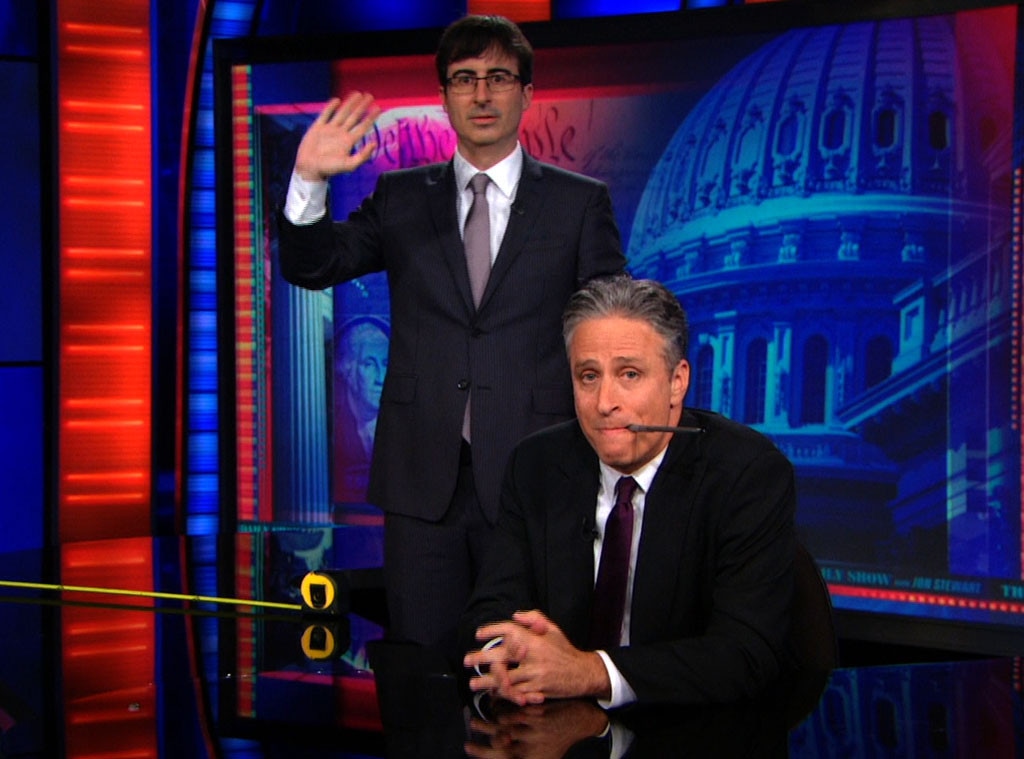 Comedy Central
He came. He hosted. He made us laugh.
John Oliver's temporary reign as the host of The Daily Show came to an end on Thursday night and the correspondent went out the same way he came in: Hilariously. Oliver took over hosting duties on the Comedy Central hit after Jon Stewart took the summer off to direct a movie...or so we thought!
"I have been lying about where Jon Stewart's been all summer," Oliver says during his final episode as host. "In fact, I've lied to you exactly 31 times. It seemed appropriate to confess tonight as this is my last show." Of course, Oliver is referring to his running joke of opening each show with a lie about where Stewart is, including, "gone for the summer. I'm not actually supposed to say this, but someone got him pregnant. He's gone to a community for older men in a similar situation."
When the crowd makes sounds of sadness (Good name for a followup to Simon and Garfunkel's "Sound of Silence," no?) after the Brit announced this is his last show as host before Stewart returns, Oliver quips, "Stop hiding your joy!"
Stewart has hosted the show for 14 years and whispers of his potential exit have grown louder. Could Oliver's summer hosting gig become permanent soon or is Comedy Central testing the comedy waters for a new Oliver-hosted series?
It's too soon to tell as Stewart will be back in action next month after filming his directorial debut in the Middle East. "Jon Stewart will be back in September. We're all looking forward to seeing him so much," Oliver says.
Stewart returns to the desk on Sept. 3.
Did you enjoy Oliver as the host of The Daily Show? Are you excited for Stewart to return? Sound off in the comments!