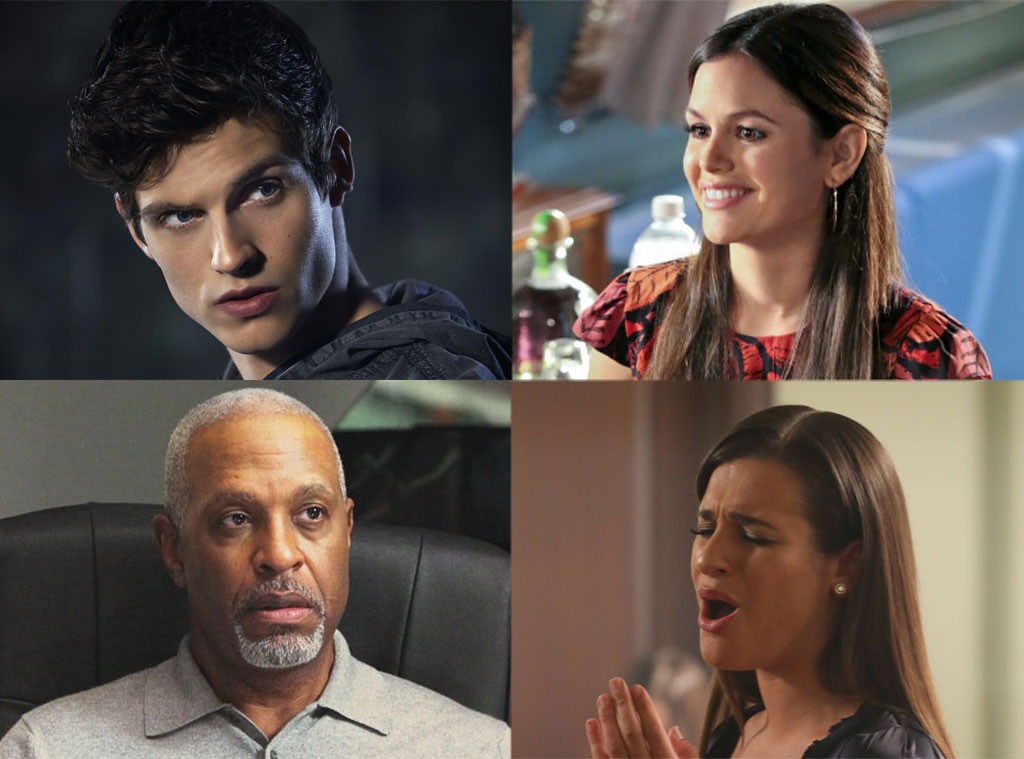 Shipping ain't easy, but it sure is fun!
In today's Spoiler Chat, we've got scoop on some fan favorite pairings, including Hart of Dixie's Zoe and Wade and The Big Bang Theory's Penny and Leonard. One couple's status? Pretty good. The other duo? Not so much. Plus, we've got finale intel on a new Teen Wolf couple making waves in the fandom.
But that's not all! There are also spoilers on Glee, Grey's Anatomy, Hannibal and more. So put on your stretchiest pants and binge on some TV scoop, why don't ya?!
Jeaneen: You said in a previous Spoiler Chat that Ryan gets a new love interest on The Following….does that mean Claire isn't in season two?
We'll just say this: you will find out Claire's fate almost immediately when the second season premieres.
LynZ_Ann: Allison/isaac, do we see more of their relationship, romantically? #TeenWolf
Ain't nobody got time for a burgeoning romance when lives are on the line and epic wolf battles are to be fought, come on now! But there is a small moment in Monday's finale that definitely sets the stage for these two to get together in season 3B. In fact, Isaac is smiling and laughing. One person who witnesses said moment? Scott. Sound the love triangle alarm!
Dani: So glad Glee isn't having Finn die of a drug overdose. That would be too much. Do you have any other info on season five?
While no one will ever be able to replay Cory Monteith, we have heard that Glee is looking to cast a new male lead, and this character will be a major recurring guest star in the new season. All we know right now is that he'll be handsome, older than the kids at McKinley and in New York, and duh, he can sing. Maybe a new teacher?
Vinnie: Still reeling over Cristina leaving Grey's. I'm soooo bummed. Is there any good Grey's Anatomy news you can give me?
How about the fact that Dr. Richard Webber will survive the electrocution situation that went down in the season finale?! How do we know? Shonda Rhimes herself accidentally tweeted out a photo of the first table read of the season, and the actor who plays Weber, James Pickens Jr., was present and accounted for. Before you run to her Twitter to confirm this, Rhimes already realized her mistake and deleted the photo. But you know that when it comes to the Internet, nothing is ever really deleted. Of course, he could be at the table read for flashback scenes or a death scene, so nothing can be said for certain about that photo. Except for we will find out the fate of the former chief's fate in the season-ten premiere.
Brie: I swear to Zod, if Penny and Leonard on The Big Bang Theory break up again this season, I am going to chuck my inhaler at someone!
Woah there fellow comic book lover, we feel the exact same way! We're prepared to stand beside you and chuck as many medication deceives as you'd like, but we don't think it's going to be necessary quite yet. Sure Leonard was having the time of his life aboard that boat, but by the second episode our beloved couple will be back to sharing pizza and swapping smiles on the couch—just not in Sheldon's spot!
Gleeonelove: Any Zade news?! When she's back to Bluebell will they have some sort of talk or what? They need to get back together asap!
We agree! So to get to the bottom of it, we traveled to Bluebell this week (no really, we did!) and we chatted with the always delightful Wilson Bethel about what's coming up on Hart of Dixie this fall. The shirtless sweetheart promised us that fans will get to see a Zade scene in season three premiere, but it might not be the one you were hoping for. "I think there's some conversation that needs to be had about where the f--k you've been basically," Bethel said. "She kinda just disappeared." Yikes! Three months and no contact? Looks like there's some drama headed to Bluebell!
Eddie: Modern Family spoilers, please! Especially if it has to do with my fave Phil Dunphy!
Ty Burrell told us that this season, Phil's optimism will be tested. That actually scares us, because what would be devastating enough to break our dear Phil's spirit? Plus, Jesse Tyler Ferguson and Eric Stonestreet revealed that a Mitch-Cameron wedding is "in the cards," but no date has been set yet. They hinted it might be a season-finale type of event, so you can wait a bit before you start start planning your themed viewing party.
Debra: Totally obsessed with Hannibal! Any scoop to share?
Will's in deep you-know-what. So deep in fact he needs a damn good attorney, which is proving difficult. Luckily, a lawyer named Leonard Braver is happy to rep the difficult client as his case is pretty high-profile and could make his career. (Like death penalty high-profile. Gulp!)
—Additional reporting by Jenna Mullins, Tierney Bricker and Leanne Aguilera

Want your TV questions answered in our next Spoiler Chat? Email them to tvdiva@eonline.com or tweet at @KristinDSantos!