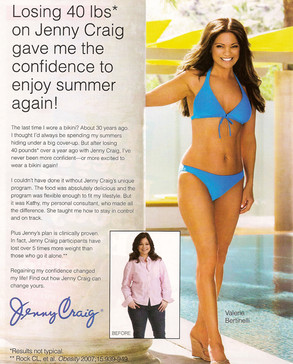 Jenny Craig
Jenny Craig may work, but Valerie Bertinelli will no longer be telling you that.
The weight loss company is cutting back on celebrity endorsers, launching a new "Eat. Live. Jenny." campaign, which will use animated ads and real people to promote the diet program instead of famous faces.
While stars such as Jessica Simpson, Charles Barkley, Jennifer Hudson, Mariah Carey, Valerie Bertinelli and Jason Alexander are among the many celebs who have fronted weight loss campaigns, research shows it's difficult for consumers to distinguish which particular diet product the celebrity is promoting.