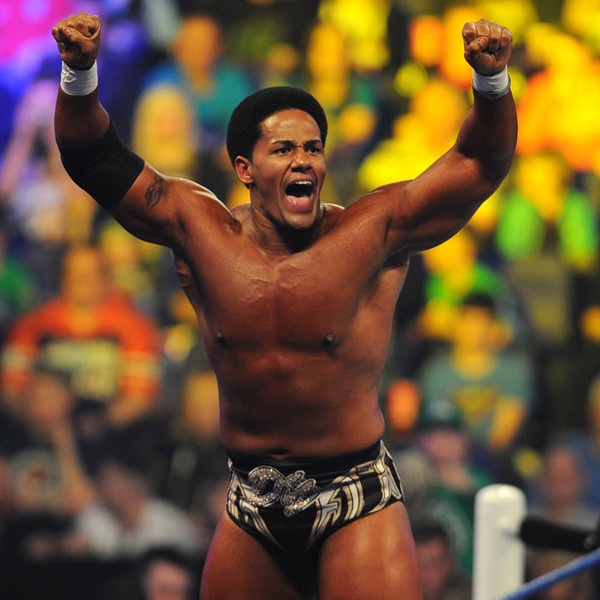 XPOSUREPHOTOS.COM
WWE superstar Darren Young is making history outside of the wrestling ring.
On Wednesday, the 33-year-old athlete came out as the first ever openly gay pro wrestler, telling a TMZ cameraman at LAX, "I'm gay, and I'm happy. I'm very happy."
This was prompted by Young being asked if he thought a gay wrestler could succeed in the WWE, to which he replied, "Absolutely. Look at me."
"I guess if you wanna call it 'coming out'—I'm just letting you know," he said. "I'm comfortable with who I am, and I'm happy to be living the dream."
Young doesn't think that his coming out will really have an impact on his relationships with fellow wrestlers. "We're all adults," he said. "All sports are physical. When I come to work, I come to work. Business is business. I'm a WWE superstar."
For part of 2012, Young dated fellow WWE superstar Tamina Snuka, and as of Thursday morning, his Twitter bio still lists his life as "[revolving] around three things—money, women and wrestling." But current WWE Champion John Cena didn't seem too surprised by Young's coming out.
"That's a very bold move for him. And congratulations for him for actually finally doing it," Cena said. "For us, it's entertainment…and if you're entertaining, you shouldn't be judged by race, creed, color or sexuality…as long as you're entertaining."
The WWE echoed Cena's sentiment, saying in a statement: "WWE is proud of Darren Young for being open about his sexuality, and we will continue to support him as a WWE Superstar. Today [Thursday] in fact, Darren will be participating in one of our Be A Star anti-bullying rallies in Los Angeles to teach children how to create positive environments for everyone regardless of age, race, religion or sexual orientation."