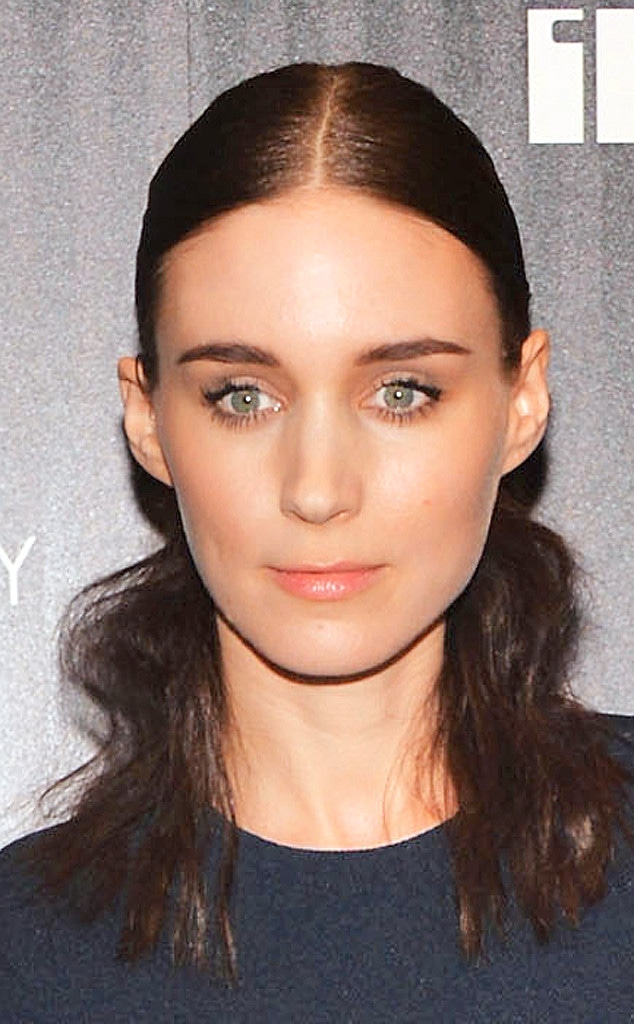 Andrew H. Walker/Getty Images
We just don't get Rooney Mara. For such a beautiful girl, it seems like she's trying pretty hard to look bad.   Perhaps she's a fan of Beauty Police and she wanted us to notice her? Mission accomplished.
The hair is simply dreadful.  It looks like she's wearing a live boa made out of human hair, and the severe part down the middle makes her look like she's auditioning for a Jane Eyre remake.  
After we convinced ourselves that the Side Effects starlet wasn't going to cast a spell on her knotty pigtails to detach and start attacking humans, we finally noticed her pretty makeup. We love the matte sandy eye shadow, super long lashes and shiny sheer lip.
Beauty Bailout: We would start by taming that knotty mess and giving it some shine with a light leave-in spray treatment like Biolage Keratindose Pro-Keratin Renewal Spray.
Next we would give her hair a good brushing and get rid of that severe part. We would then pull Rooney's hair up into either a sleek topknot or high braided bun to show off her sky-high cheekbones.
Get the Look: To recreate Rooney's soft makeup look at home, start by evening out your skin tone and giving it a natural-looking glow with a buildable coverage foundation or CC Cream like Kate Somerville IllumiKate CC Cream.
To get Rooney's subtle eye makeup, use a matte palette like Urban Decay Naked Basics Palette.  Start by covering the entire upper eye area with a flesh-colored eyeshadow like Foxy.
Next, apply a light sand eyeshadow like Naked 2 to your lids, and then use a matte brown like Faint in your creases. For more drama, use a smaller shadow brush and make a V-shape with the outer corners of your creases and eyes with the Faint. Blend like crazy.
To add more definition to the eyes, create a thin line along your upper lash line with a black kohl eyeliner pencil or gel eyeliner. Then use a flat eyeliner brush, dipped in the Faint, and line your lower lash line.  Use a Q-tip or smudger to blend the shadow into your lash line, making it look softer and more diffused.
To get Rooney's dramatic lashes, start by curling them with a curler like Tarte Picture Perfect Eyelash Curler. Then, use a volumizing mascara like Tarte Lights, Camera, Flashes Statement Mascara. Complete this look with a sheer pink lip tint like Fresh Sugar Petal Tinted Lip Treatment Sunscreen SPF 15.
We feel like since Rooney grew her tresses out after the Girl with the Dragon Tattoo she's been struggling with her hair identity.  She's obviously most comfortable with a Goth, dark image but these half up half down disasters just make us scratch our heads.  Our advice? Cut your hair! This just isn't working!
If you're a beauty addict, Janna will be your enabler. Just an occasional user? She'll be your bad influence. Visit her blog at mybeautybinge.com and indulge!