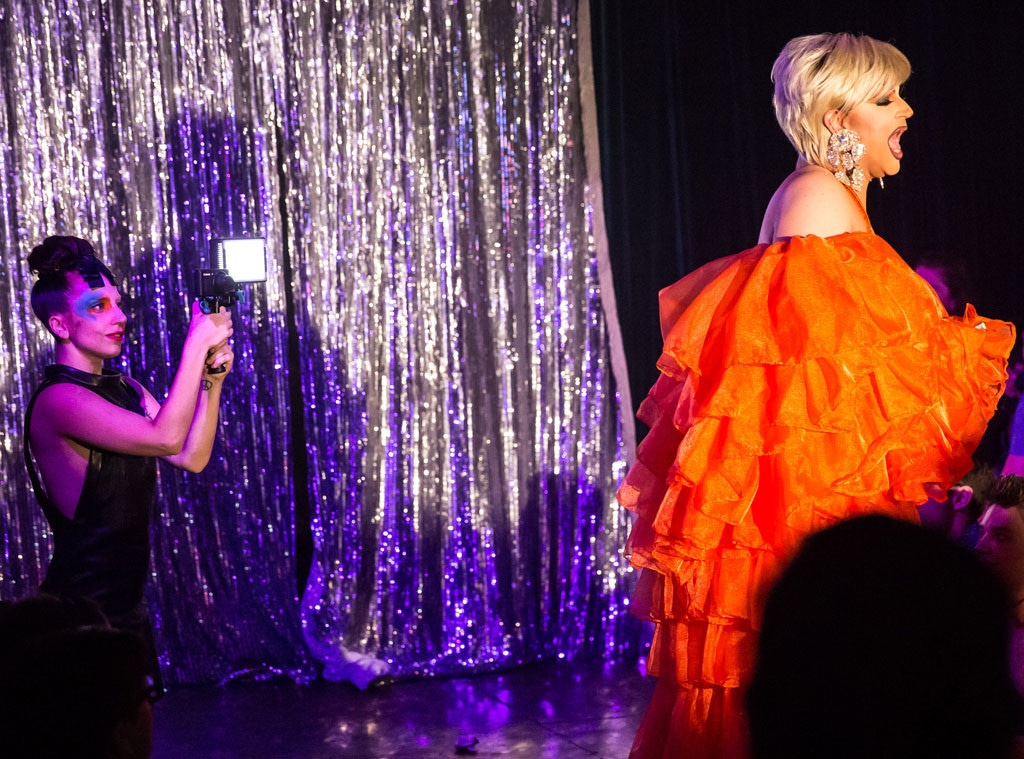 Chelsea Lauren/WireImage
Lady Gaga's an international pop star, but that doesn't mean she's too cool to party with the people!
On Monday night, the "Applause" singer dropped by Micky's, a popular gay club in West Hollywood, to film the crowd and herself for her single's lyric video.
Mother Monster gave her  L.A.-area fans a heads up just after 10 p.m., tweeting,  "I will definitely NOT be at Mickys tonight, and I will definitely NOT expect you there to be in my lyric video. " Eyewitness Jenner Anderson tells E! News exclusively that the singer arrived around 11:15 p.m. and stayed for approximately 45 minutes.
Another source described the scene: "She walked in through the front entrance and wanted to go through the bar area to see her fans. She had two to three bodyguards who kept an eye on her throughout the night, but she wandered throughout the bar area without them."
We're told that Gaga filmed the crowd, encouraging them all to clap. She also filmed two fans who had similar face makeup on and then positioned the camera to snap a selfie with them.
"She was so casual," The source said. "She actually seemed like didn't want to take the attention away from the drag queens. She filmed everyone with her camera and light attached."
Naturally, she was covered in smeared face paint that she herself says gives makes her look like  "a pissed-off teenager that made out with a clown." Gaga posed for several shots with fans. Shangela, a popular DJ and drag queen, Instagrammed a snap of the twosome,  writing, "She was super sweet and showed love to all the Queens and Fans. A True Star!" Another eyewitness backed up this claim, telling E! News Gaga was "really cool, down to earth."
But Mother Monster didn't forget why she was at Micky's in the first place! As the club played "Applause" and the drag queens encouraged the crowd to dance, Gaga kept the cameras rolling, looking "really involved in filming," according to an eyewitness.
And if you happened to have been born on Aug. 12, you were in luck! The hostess called for any clubbers celebrating their birthday to come to the stage. Per an eyewitness, IDs were checked to verify everyone was telling the truth. Then, Gaga sang a soulful "Happy Birthday" to the 20 or so people on stage. After the song, she gave each one a hug.
That deserves a round of applause!
alexinfiniti/instagram.com