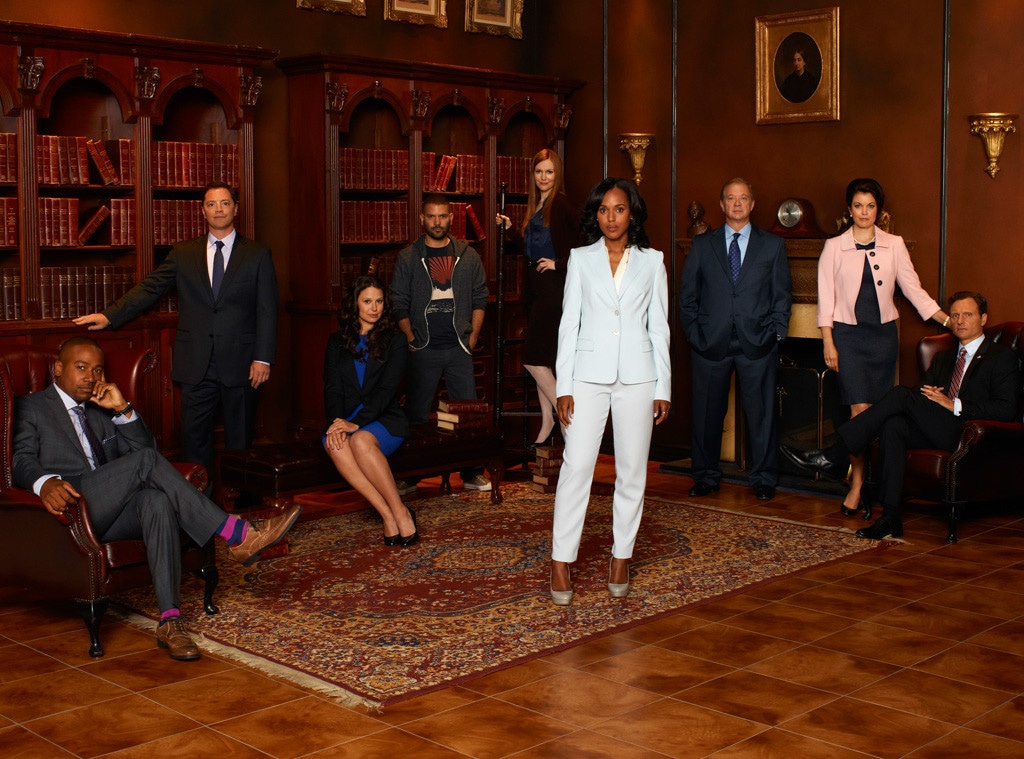 Craig Sjodin/ABC
Grab a brown paper bag because there's a whole lot of action going on in Spoiler Chat!
In today's column, we've got scoop on some major crises going down on Scandal, Revenge and Grey's Anatomy when they return in the fall. We're talking life or death action here, people! Typical Shonda Rhimes, right?! Plus, we've included some intel on a death going down on The Vampire Diaries when it hits university. Seems like the drama doesn't end in high school after all! Plus, there are spoilers on New Girl, Parks and Recreation and more...
The Following is currently looking to cast a new series regular who could give Joe Carroll a run for his money in terms of charisma and having a penchant for terrorizing those around him. We won't tell you the name of the character lest we spoil his identity once the show premieres, but just so know. if you start to fall in love with a new guy on The Following in season two, you might be falling in love with a killer.
Brenda: LOVED all the Scandal spoilers from Shonda and the cast, thank you! Anything else you can share? Will the new season actually be just as good as season two?
From what I've seen so far, the intensity does not waiver! Episode three in particular looks to be bananas, with a sniper and SWAT team and secret service galore. Can you say "Ac-Shun"? Great. Can you also spell it? Cause obvs we can't.
Beth: Literally dying for any scoop on the new season of TVD! Please deliver me some goodies!
There will be zero deaths this season. Just kidding! Come on now, this is The Vampire Diaries, where there are more deaths than goodlooking people...and that's saying a lot! We can tell you that Elena and Caroline will experience the death of one of their fellow freshman when they hit college come October. But with mourning comes potential romance as their classmate's death will lead one of the ladies to meet a possible new love interest: Aaron, a handsome co-ed who may have a connection the dearly departed.
Marrissa: Revenge scoop? Is anyone else going to die?
Yes, there will be at least one death this season. We can also tell you that someone notable ends up in the emergency room in episode four. It's a life or death sitch that requires defibrillator paddles, so if you're an uberfan, you might want to have your own pair on standby!
Michelle in Chicago: I seriously cannot WAIT for Coach to finally come back to the loft in New Girl!! I almost cried when I found out! Any scoop on when he'll be back?!
First of all, we're excited that you're excited, but at the risk of scaring off Damon Wayans Jr. here's some classic words of wisdom from Coach. Have you calmed down a bit? Good. Now onto the scoop: We caught up with everyone's favorite douchebag Max Greenfield and he said that we'll have to endure a few Coach-free episodes when season three kicks off in September. "He's going to come back episode five or six or somewhere in there. Yeah, Damon's the best." We couldn't agree with you more Max!
Erika: Don't forget us Grey's Anatomy fans who are always hurting for scoop!
Hey, did you just get over the death of Lexi? Good, because there is an episode in the beginning of the season that resurfaces her death at the most inconvenient time for someone who was very close to her. Salt, meet open wound, right?
Georgina: I'm still reeling over the news that Rashida Jones and Rob Lowe are leaving Parks and Rec. Do you know how they will be written out?
No, but we can tell you that the producers are currently looking for a new actress who resembles Rashida Jones. They want this Rashida 2.0 to be a "very pretty (but not glamorous)" city employee. As far as we know, it's just for one episode, but maybe she will end up being Leslie's new bestie? (As if anyone could compare to Ann!)
Andy: I know the first episode is pretty far off, but any chance for White Collar spoilers?
What do you know, we were just onset to talk to the cast about the season-five premiere, and we'll let you in a on a little secret: it's a big episode of Peter and Elizabeth, and not in a good way. Someone from Peter's past will show and really put a strain on the couple's relationship. And here's another hint: the person from Peter's past is a woman. Shippers, we suggest starting to prepare for some angst right about…now.
—Additional reporting by Jenna Mullins, Tierney Bricker and Leanne Aguilera

Want your TV questions answered in our next Spoiler Chat? Email them to tvdiva@eonline.com or tweet at @KristinDSantos!