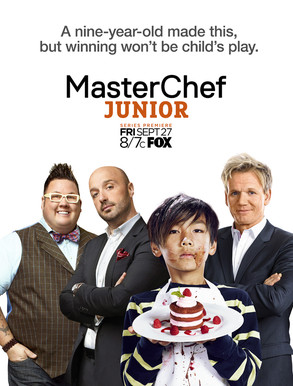 Fox
Get ready to feel really bad about your culinary skills!
Gordon Ramsay's hit series MasterChef is taking a bit of a break, but before you fall to your knees and shake your fists at the skies in a fit of foodie rage, we have some good news to share: The celebrated chef's new series MasterChef Junior is set to premiere on Friday, Sept. 27. We've got your exclusive first look at the poster for Fox's MasterChef Junior, which teases just how high the level of talent and competition will be amongst the 24 young chefs, ranging in age from 8 to 13.
"A nine-year-old made this, but winning won't be child's play." Especially when the notoriously hard-to-please Ramsay and his fellow judges Graham Elliot and Joe Bastianich are critiquing the food!