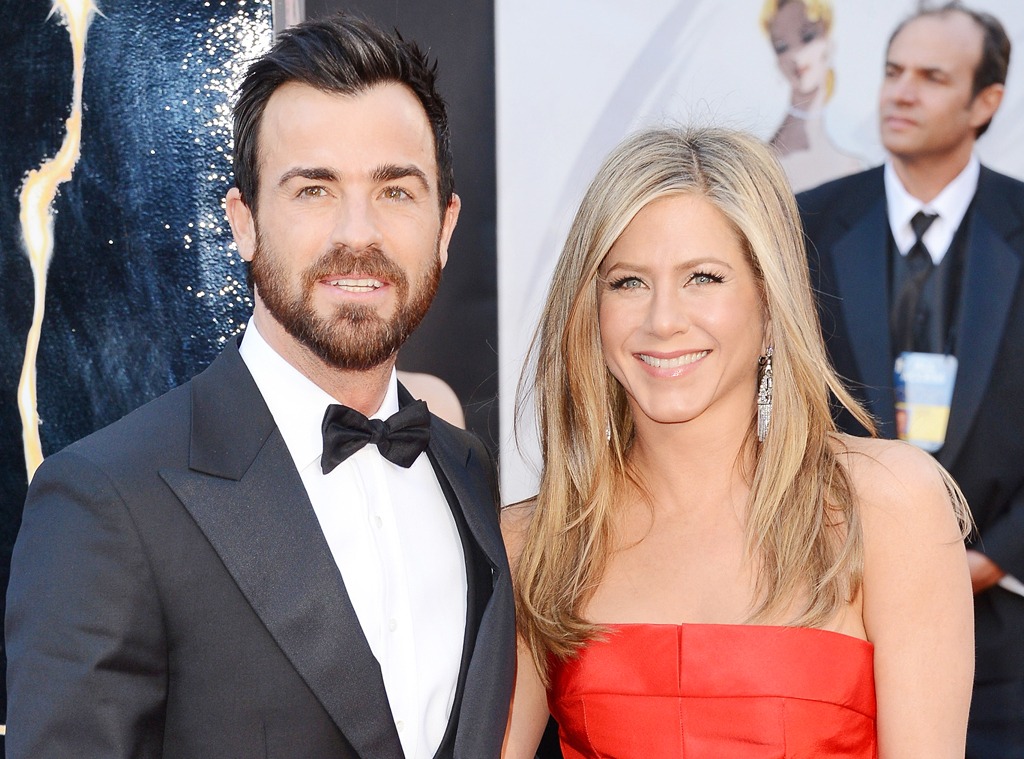 Jason Merritt/Getty Images
Let there be cake!
While it may not have been the much anticipated wedding cake, Justin Theroux and Jennifer Aniston still enjoyed some cake on Saturday, birthday cake that is.
Rumors started flying that Aniston and Theroux were gearing up to tie the knot earlier that day, when no-parking signs popped up near the We're the Millers star's Bel-Air home and Aniston's hairstylist Chris McMillan was spotted arriving there as well around noon.
But, alas, the couple was not prepping for their wedding.
They were simply celebrating Theroux's 42nd birthday.
As the party kicked off in the afternoon, celeb guests like Dax Shepard, Kristen Bell, Isla Fisher, Sacha Baron Cohen, Jimmy Kimmel, Tobey Maguire and his wife Jen, Jason Bateman arrived.
Ben Stiller, Ellen DeGeneres, Portia de Rossi, Christa Miller, Tobey Maguire, Jen Meyer, Jimmy Kimmel, John Krasinski, Don Cheadle, Lake Bell, Scott Campbell, Sacha Baron Cohen, Isla Fisher, Will Arnett, and Laura Dern were also among celebs in attendance.
Of the 80 guests in attendance, "everyone was dressed casually in jeans and t-shirts," a source told E! News. "Justin wore a black t-shirt and jeans while Jen had on a mini skirt."
While some guests hung out by the pool, others congregated inside in the living room, where a fire pit was lit and a huge bar was set up.
A food buffet was stationed on the indoor-outdoor deck where guests noshed on finger foods and small appetizers prepared by Jen's personal chefs.
"Justin was hanging out with Scott Campbell and Dax Shepherd at the beginning of the party," the source continued. "They were having a great time laughing and joking around. Jen was nearby talking to Mandy Ingber and Isla Fisher. She was hugging her friends and talking closely with them most of the night."
Before the party was over around 11 p.m., the entire house was dimly lit by hurricane candles and white lights around the property.
"Justin looked very happy and like he was really enjoying his birthday and showing off their new house," the source said.
The day not only marked Justin's big 4-2 but also the couple's one year engagement anniversary!