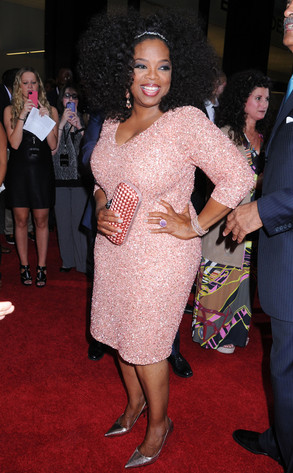 NEW YORK, NEW YORK - Monday August 05, 2013. Oprah Winfrey attends the premiere of Lee Daniels' 'The Butler' at Ziegfeld Theater in New York City. Photograph: © Darla Khazei, PacificCoastNews.com
Oprah Winfrey addressed the issue of racism many times on her daytime talk show and most recently with the Trayvon Martin verdict. But as an African-American, she's unfortunately no stranger to experiencing it in her own life.
Swiss tourism officials have officially apologized to the OWN mogul after Winfrey gave an interview to Entertainment Tonight in which she revealed she encountered racism while shopping in Zurich when a store clerk refused to show her a handbag, claiming it was "too expensive" for her.
The flap reminds us of that classic scene with Julia Roberts in Pretty Woman. Only unlike the hooker with a heart of gold in that movie, as one of the world's richest entertainers—earning an estimated $77 million from June 2012 to June 2013 alone, according to Forbes—Oprah can afford pretty much whatever she wants.