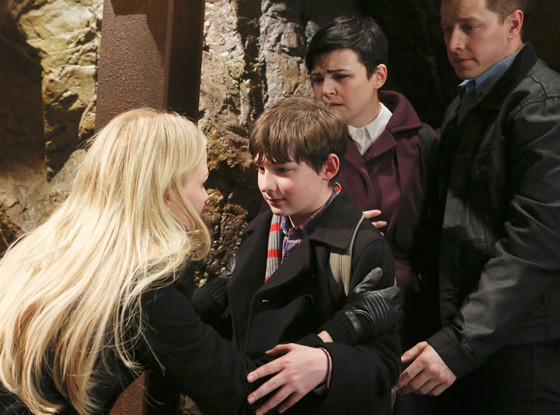 ABC/Jack Rowand
This fall you're all invited on a dark and unexpectedly terrifying journey. The location?  The second star on the right, and straight on til morning.
When Once Upon a Time returns for its third season, fans will finally be allowed to enter the mysterious new realm of Neverland, but believe us when we tell you, this isn't going to be the fun fairytale you remember as a child. Earlier this week we caught up with Once creators (and storytelling masterminds!) Adam Horowitz and Eddy Kitsis to get all the inside scoop on Peter Pan, aka our newest villain, and how life on Neverland isn't just fun and games.
Plus, we've snagged scoop on two lovely ladies who will be making their enchanting debut this year: An underwater redhead that fans have been dying to catch a glimpse of since the series' premiere, and a trouble-making fairy with a secret connection to an unlikely character.
Related:
"Once Upon a Time" Creators Tease Season 3
When we last saw our main Storybrooke sixsome, the gang was enroute on a high-stakes journey to Neverland on a quest to recue Henry (Jared Gilmore) from the clutches of Peter Pan. That's right, our dear shadow chaser is not the loveable boy we knew growing up. In fact, Kitsis says we all should be extremely weary of this one. "Rumplestilskin, or Mr. Gold (Robert Carlyle) said, 'He's a man we should all be frightened of.' I think that if he's a little bit worried, we all should be very worried."
Horowitz adds that like Peter Pan, Neverland is not something you want to mess around with. "Well for us, Neverland is kind of a place that makes you confront your past. It's sort of the heart of darkness and to be a 200 year-old person, you know because you don't grow up there, you have to keep yourself amused," he says.
Not to worry OUAT fans, the creators promise that all the twisted details will be revealed in a timely manner. "However long Peter Pan has been there and for whatever reason he has been there, we intend to reveal our take on that and on the legend of Peter Pan," Horowitz spills. "We have a way that it intertwines with our Once Upon a Time mythology that we're really excited to unveil."
And what about our favorite applause-loving fairy? Last week E! Online confirmed that Rose McIver will be stepping into the sparkly wings this season as Tinkerbell, a girl who has a very unique connection to not one, but two of our main characters aboard the Jolly Roger. But the question is: who?
Kitsis explains, "Obviously Hook (Colin O'Donoghue) has spent some time in Neverland and so it's no surprise that Tinkerbell would be living there. But we're going to be getting into her story and she has a very special connection to somebody on that ship." Let the fairytale speculations begin!
And as for our favorite little mermaid, the EPs are confident that Ariel's long-awaited storyline will definitely make a splash with the fans. "The reveal of Ariel, who she is, when she is coming is not something we're ready to announce just yet, but it is something that we're excited," Horowitz enthuses.
Like all the other fairytale characters we've met in the past two seasons, Ariel will be integrated smoothly as a part of the Once Upon a Time world. "You know us, we love to give nods to the iconography and I don't think it'll be any different with Ariel." Horowitz says. "There will be a nod to what we all know and love about her and hopefully there will be a really cool twist." Fingers crossed we'll see her gadgets and gizmos of plenty! (Sorry, we couldn't help ourselves. We love that song!)
Check out our full interviews with the creators above and don't miss the season three premiere of Once Upon a Time Sunday, Sept. 29 at 8 p.m. on ABC!