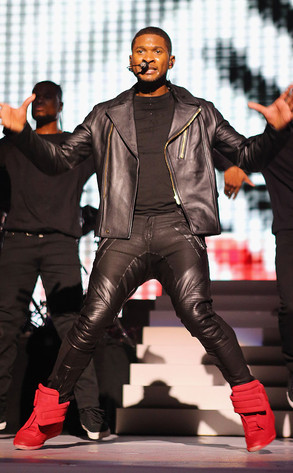 Joe Raedle/Getty Images
Usher, wedding singer?
Rumors have been running rampant that the mother of Ben Crews, one of the two men who saved the singer's 5-year-old boy from nearly drowning, wants the Grammy winner to croon a few tunes at her son's upcoming nuptials.
But Ben's mom is setting the record straight.
"I said that in jest," Leigh Crews told E! News exclusively. "In no way did I expect that it would get back to Usher and we have no expectations whatsoever. Ben got a reward. That little boy is alive and that is huge."
It was on Monday when 5-year-old Usher Raymond V almost drowned in his father's pool after his arm got stuck in a pool drain while trying to retrieve a toy. His aunt and a housekeeper unsuccessfully tried to free him before Ben and another contractor working in the house got him out of the pool and performed CPR on him.