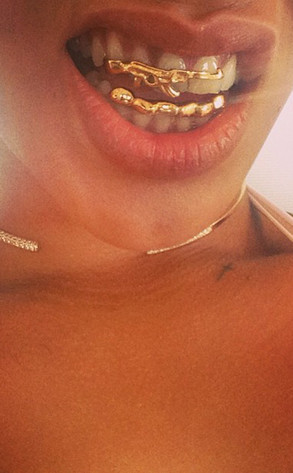 Instagram
Rihanna is shining bright like a diamond…literally!
The "Diamonds" singer has decided to shake things up with a blinged-out grill proudly displayed on her pearly whites.
Perfectly shaped as an AK-47 gun, the new mouth accessory is quite the sight, and that's coming from a pop singer known for outrageous outfits and bikinis.
Can Rihanna's bling compete with other celebs?
From the young Chris Brown and Justin Bieber to the older (and we thought wiser) Madonna and Sean "Diddy" Combs, many stars aren't afraid to show off the memorable trend.
Whose grill shines the brightest? Have your voice heard and vote in our grill-off below!