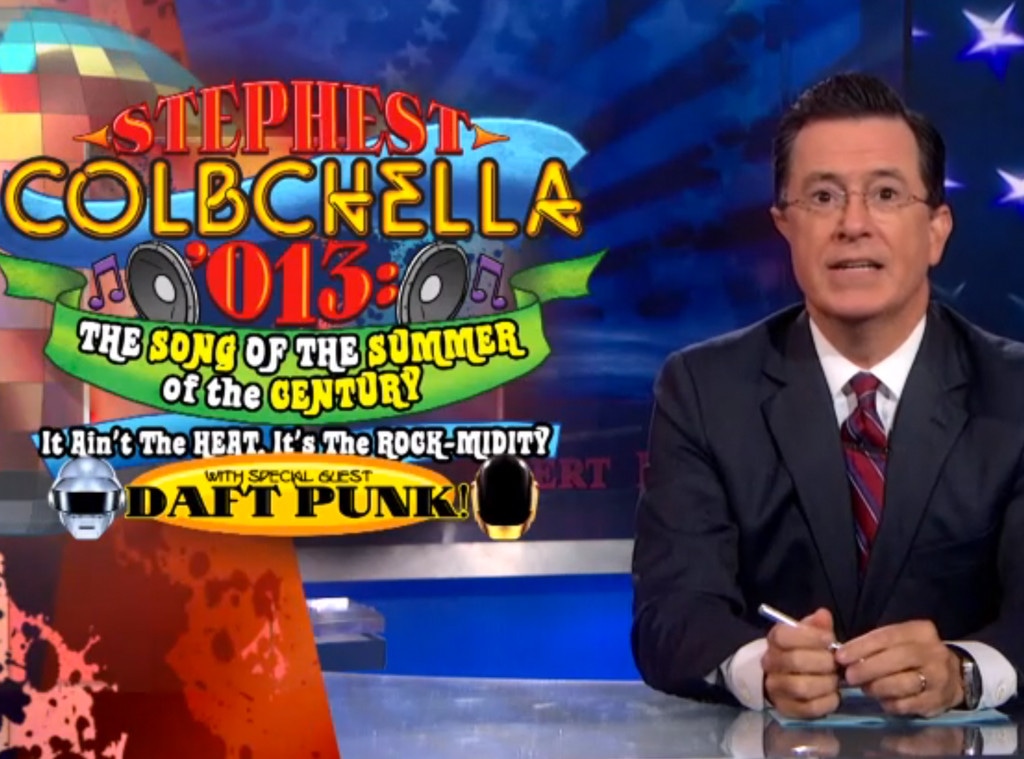 Comedy Central
The word last night from Stephen Colbert? How about "Daft Punked?"
After getting word that Daft Punk canceled out on The Colbert Report Tuesday night, at the last minute so they could make a surprise appearance at the MTV Video Music Awards, the faux pundit had a little fun at the Robots' expense.
Colbert kicked off the show by welcoming Colbert Nation to "Stephen Colbchella '013," his now-annual summer musical bash, which was to feature Daft Punk performing their mega-hit "Get Lucky" or, as the funnyman called it, "the song of the summer of the century."
But what his fans didn't expect was for Colbert to start bashing the reclusive electronica duo, referring to them as "The Artists formerly booked as Daft Punk."
"Now they're not here tonight and I have accepted a lot of money from our Colbchella sponsor, Hyundai, so not delivering the song of the summer is a real kick in my balls," the Comedy Central star informed viewers.
He then added that he'd been "daft punk'd," at which point he brought out Punk'd purveyor Ashton Kutcher for a quick exchange.
"So Ashton, Daft Punk not being here, did I get punk—ED?" asked Colbert.
"No, you got f--k—ED," quipped the Jobs star.
Colbert subsequently proceeded to explain (with the aid of a little booze) that Comedy Central's corporate bosses at Viacom, which also owns MTV, pretty much left him hanging, having already cashed a check from Hyundai.
"We booked Click and Clack over here about a month ago. Apparently, Daft Punk are going to make a surprise appearance on the MTV Video Music Awards," Colbert said, then purposefully letting the cat out of the bag, added, "Don't tell anyone, because fun fact: No one told me until two hours ago."
But the comedian wasn't going to let a little no-show get him down. With or without Daft Punk, a defiant Colbert vowed to give his audience the dance party he promised—and that he did, with a few special guest stars to boot.
"I don't care what MTV allows. My audience gets the song of the summer if they want it and I don't even need Daft Punk to choose my show over the VMAs to get it. This is Colbchella, goddamnit, and it is time to dance," he yelled.
At that point, "Get Lucky" started up and Colbert began dancing around his studio, lip-synching the song, at which point he ran into Hugh Laurie, whom he promptly punched out. Stephen then took the party outside, getting down with Jeff Bridges and Jimmy Fallon on the set of NBC's Late Night, before heading on over to Charlie Rose's PBS show, where he crashed an interview with the cast of Breaking Bad and mugged for the camera with Bryan Cranston.
The hilarity continued from there with a virtual disco dance floor and more cameos from the likes of Rockettes, a bearded Jon Stewart, still on hiatus from The Daily Show, and Matt Damon. Colbert even turned up on America's Got Talent!
The VMAs are set to take place at Aug. 25 at Brooklyn's Barclays Center. But it's nice to know Colbert hasn't lost his sense of humor.