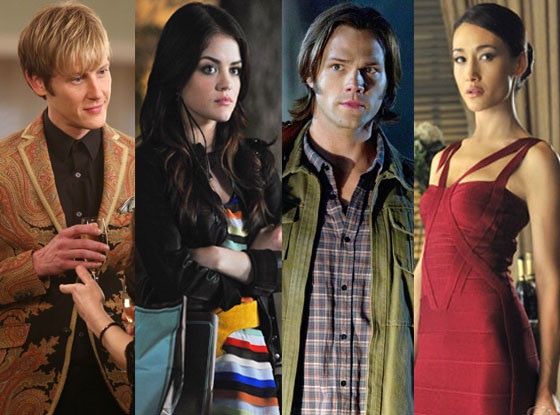 ABC, CW
Fall TV season is just around the corner and with it comes new faces!
We've got scoop on several new characters fans will be meeting when their favorite TV shows return, including a new hunter on Supernatural, a Pretty Little Liars hunk with an interesting job and a relative heading to Bluebell on Hart of Dixie. We've also got intel on Victoria's relationship with her long-lost son on Revenge, an update on a fan-favorite couple on Scandal and more in today's Spoiler Chat. So what are you waiting for? Dig in...
Daniel: This is our last season for Nikita scoop, so spill!
Prepare to meet a new badass woman who will not exactly want to be best friends with our favorite spies. Ellen Crawford is a forensics accountant, and she gets her claws on Alex in episode three via an intense interrogation. Their first meeting does not go well, and Alex winds up in a possibly fatal position.
Shawn: While I love me some Olitz, I can't help but root for Cyrus and James on Scandal! What's coming up for them in the new season?
Are you sitting down? You should be because what we're going to tell you about the always-dramatic duo might cause you to pass out: They will be happy! "We are in a pretty good place," Jeff Perry tells us. "There will always be things that are always a bone of contention with him being a member of the White House press corps though, so we'll have to see if James crosses the line. I told him how to behave, so we'll just have to see if he does!" Same ol' Cyrus!
Casey: Supernatural scoop, pretty please, with sugar and a cherry on top?!
Fine, but only because we're hungry. Prepare for flashbacks to the '30s in episode four, which is titled "Slumber Party." In the same episode, we'll meet a young new hunter named Dorothy, who is from a very far away land that is supposed to be fictional. Keywords here: "supposed to be."
Lyla: Hart of Dixie scoop, please!
A new Breeland woman is coming to Bluebell: Grandma Bettie! Lemon's grandmother hits town to help her granddaughter preserve the Breeland name. A pillar of the Southern Belle community, Bettie is strong, upscale and take-charge. Hmmm…we wonder whom Lemon gets her personality from?
LORENZO AGIUS /The CW, ABC/COLLEEN HAYES
SavannahRidout: Any news on where Revenge will pick up when season three starts?
Pack your bags, Hamptonites, because we're going back to visit our favorite revenge-loving characters. Season three will pick up a few months after we last saw Victoria's long-lost son appear on her doorstep, shocking her enough to drop her glass. However, Madeleine Stowe tells us that she and her son Patrick, played by Smallville hunk Justin Hartley, have developed a "very close relationship" over these past months together, and Daniel is not happy about it one bit. "She's not trying to make him crazy, but she really wants to have a good, clean, honest relationship. But, of course, this is Revenge, so something terrible is going to happen," she says. Patrick is the result of a pedophiliac relationship Victoria went through when she was around 15 years old, and it looks like these circumstances have affected her son's psyche. "He deeply, deeply loves his mother and will do anything to take her side," Stowe says, "I've been given hints and it's quite dark." Yikes!
Laurawallace17: Will Ezra and Aria from #PLL get back together?
Ezra may want to watch out because there's a new hottie coming to Rosewood High School…as an employee! Fans will be introduced to the new attractive guidance counselor Jesse, who is described as laid-back, warm, genial—and a potential recurring character. He's basically Aria catnip.
Britney in Los Angeles: Bless Netflix for bringing me Orange Is the New Black. I know it's been renewed already, so can I get some scoop?
Ready to meet the younger versions of Crazy Eyes and Taystee? Of course you are! We even get to meet the parents and the sister of Crazy Eyes, as well as flash back to a moment in her life that will explain one of the reasons she became who she is today.
Lorena: I'm all about Devious Maids, so any spoilers would be mucho appreciated.
Don't think for a second that Devious Maids will pull a Killing season one and not wrap up big storylines in the finale. Roslyn Sanchez and Ana Ortiz tell us that we will find out who killed Flora, and everything will be resolved by the end of the season. The reveal of Flora's murder will be the big arc in the finale, and then, hopefully, plotlines will be set up for a second season. ABC has yet to renew it, but the buzz is strong enough that a season two might be in the cards.
—Additional reporting by Jenna Mullins, Tierney Bricker and Leanne Aguilera

Want your TV questions answered in our next Spoiler Chat? Email them to tvdiva@eonline.com or tweet at @KristinDSantos!