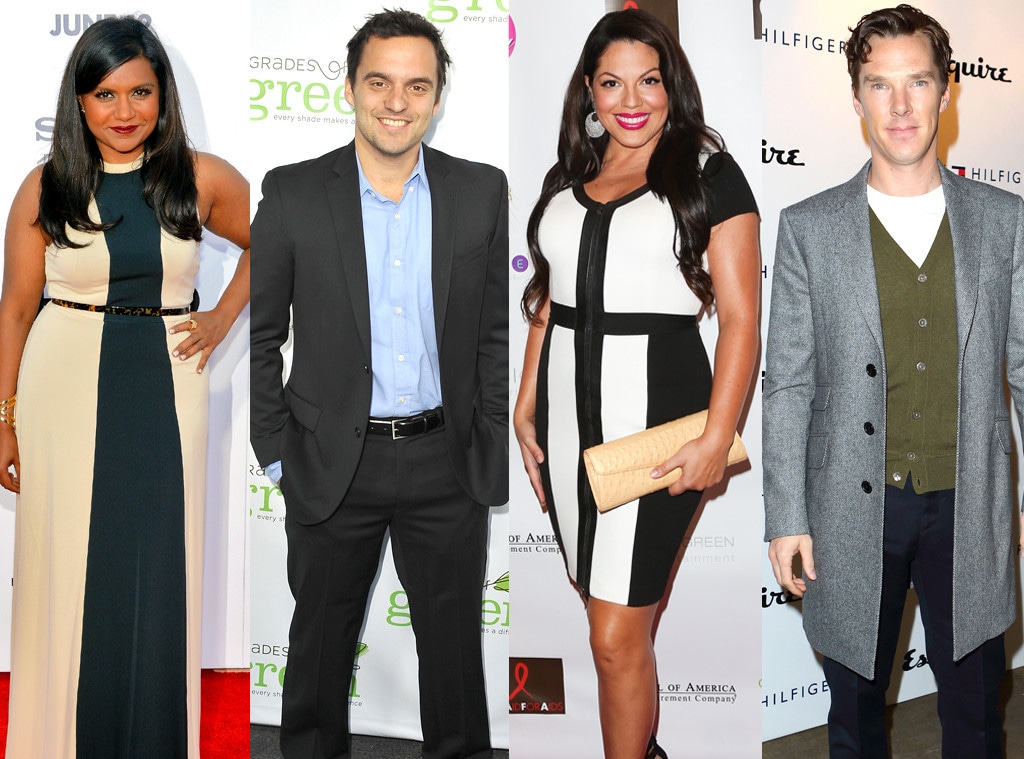 Guess what's back and better than ever?! Spoiler Chat!
Yes, that's right. After a brief summer hiatus, your trusty scoop-filled column has returned, fully stocked with more TV goodness than you can handle. And we've assembled quite the menu for this all-you-can-eat scoop buffet, including details on New Girl's season three premiere, an update on a fan favorite Grey's Anatomy pairing and insider info on two new pretty ladies coming to Once Upon a Time. Plus, there are spoilers on The Following, The Mindy Project and more...
Rachel: Where have you guys been? I've missed Spoiler Chat!
It's a slow time when TV shows are on hiatus, that's the short answer. Here is the sarcastic long answer brought to you by the members of the TV Scoop team: "Ask your mom. She'll have answers." "Where have you been? You never call anymore." "Crying under our desks waiting for TV to return." And "I've been eat, pray, loving but I got bored after the first one." Welcome back, kids.
Samantha: New Girl scoop please!
The gang is heading to Mexico! And one of them is going to get arrested! Yes, Nick, Jess, Schmidt and Winston cross the border in the season three premiere, which is titled "All In," and finds two of the roomies getting tazed.
JessJohnson93: I want to know…no, in fact, I need to know what's going on in #GreysAnatomy
What's going on is the new interns need to watch out for a scorned Callie. Sara Ramirez told us recently that Callie is very hurt and frustrated from being in another marriage involving infidelity, and that she might (read: she will) take her horrible mood out on those poor newbies. Ramirez also told us that Callie's main goal in the beginning of the season is to be there for her daughter and she doesn't know if she can look past Arizona's cheating ways. If you need more Grey's scoop, we'll have our full exclusive interviews with the cast going up later today!
Tyler in Seattle: All I care about is The Following. Spill please!
Better hop in your DeLorean because season two of The Following is going to kick-off an entire year from where we left off in the May finale. So what can we expect to see from our two favorite fellas? James Purfeoy told us a few weeks ago at Comic-Con that Joe is going to be playing a little bit of hide n' seek from the FBI until he can figure out his next move. Is he once again hiding in a lighthouse? "No no no, it's not a light house!," Purefoy says. "I think he'll learn from lost mistakes and I think he'll rise up like a phoenix and create more murder, mischief, and mayhem." As for Ryan, Kevin Bacon reveals that despite being stabbed, his character is stronger than ever, "When we see him, he's strong, he's running, he's feeling good, he's not with the FBI, he's sort of at a different place in his life." Ryan could also be getting a new love interest this season, so we'll let you think about that while you ponder Claire's fate…
Michael Buckner/Getty Images
theOUATspoiler: Can you ask the Once Upon a Time creators for a clue to who Tinkerbell has the special connection with that they mentioned at Comic Con?
Because we're in such a magical mood, we're going to sprinkle a little extra fairy dust on this answer! We recently caught up with the enchanted Once Upon a Time creators Eddy Kitsis and Adam Horowitz and they spilled that the newly cast Tinkerbell will have a connection to not one, but two characters aboard the Jolly Roger! (Cue the applause!) The fellas revealed that the iconic fairy and our swoon-worthy Captain Hook have a complicated Neverland history together, but we're still left guessing at Tink's other tie-in. So who could it be? The obvious choice would be that she's in Rumplestilskin's magical Rolodex, but we think it's going to be a bit more twisted than that. (Perhaps she's Charming's ex-girlfriend?! We kid, we kid!)
Sarah: I am counting down the days until The Mindy Project's return! Will Mindy and Casey still be together?
Mindy and Casey return from Haiti as a couple and are still together by episode three, which features Casey leaving his parish to pursue his music career. But something tells us Casey isn't around for the long haul and that something is actually a someone: Mindy Kaling! "Mindy gets to be single again pretty soon, which is fun," she teases.
Elisa in Toronto: I miss my Braverman fix. Got Parenthood info?
Heck yes, we do. We just chatted with Peter Krause about the new season, which will have a six-month time jump and Kristina making some big changes in her life. "She had a brush with death and she had to confront her own mortality," Krause told us. "And so Kristina enters this season with a renewed sense of life and she makes a very bold and impulsive decision which starts out season five. And when I read it, I was pretty surprised. I was shocked. And I think that's how Adam is going to feel when Kristina announces what she has planned." Hmmm, what could it be? It's probably not that she's starting a ska band, is it? Probably not. Well, maybe…
Gina S.: Curious about what your favorite new show of the fall is?
Sherlock! True, that is neither a fall show nor a new show, but those are minor details. Seriously, we are so excited about Sherlock coming back, especially when BBC America released this promo. It doesn't have much, but it does have Sherlock about to approach his best friend John Watson for a much-anticipated reunion. Also, why does John have facial hair now? Answer: because Sherlock moustache John a few questions. Good night, America!
—Additional reporting by Jenna Mullins, Tierney Bricker and Leanne Aguilera

Want your TV questions answered in our next Spoiler Chat? Email them to tvdiva@eonline.com or tweet at @KristinDSantos!