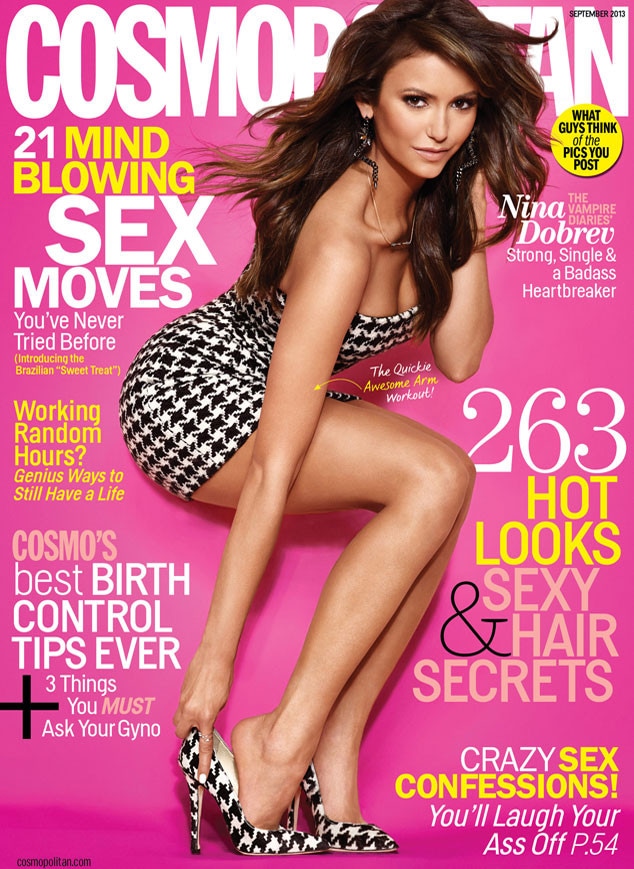 Matthias Vriens-McGrath/Cosmopolitan
It's good to know that BFFs Nina Dobrev and Julianne Hough had each other to lean on after their respective breakups from Ian Somerhalder and Ryan Seacrest.
But the Vampire Diaries actress says their splits aren't what bonded them as buddies.
"That's not what our friendship is about," Dobrev says of Hough in the latest issue of Cosmopolitan. "Unfortunately, that's how it's perceived, but there's more to us. People aren't defined by their relationships. The whole point is being true to yourself and not losing yourself in relationships, whether romances or friendships."
Dobrev adds, "It's been cool to find an active buddy—there are lots of girlie girls around. We don't talk about makeup; we talk about life."
As for what Dobrev looks for in a guy, the 24-year-old, who split with Somerhalder back in May, says, "You either have chemistry or you don't, but a lot of what attracts me is a guy's mind and humor and talent. I need to get to know all those things before I fall for someone. I'm not a one-night-stand kind of girl. I'm a relationship girl."
Matthias Vriens-McGrath/Cosmopolitan
She continues, "I'm progressive in some ways, old-fashioned in others. I like it when guys hold the door open and are sweet and thoughtful. The guys on our show are really good at that. A man in a suit looking put together and dapper is very attractive, but I also kind of like the I-just-rolled-out-of-bed, a-little-bit-of-scruff, effortless, not-trying-hard-but-still-sexy guy. If a guy spends more time looking in the mirror than I do, that's problem!"
Aside from the Vampire Diaries, it sounds like Dobrev may be venturing into the fitness world with her own business very soon. She says, "I want to open my own yoga studio. Planning construction and looking at properties is fun. I'm using a different part of my brain. You know that feeling when you use a different muscle? You're excited to be exercising it but you get a little sore! Yoga changed my life. Hopefully, it will do that for others."