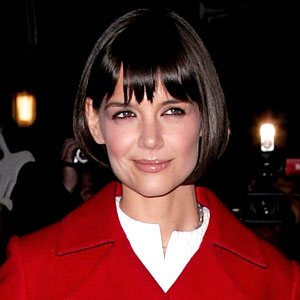 James Devaney/WireImage.com
Well, this just makes my heart sing.
As a devoted Eli Stone fan, it thrills me to tell you ABC has just confirmed to me that it's true: Katie Holmes will guest star on the show this season. (The news was first reported by JustJared.com last night.)
Sources tell me exclusively that Katie will appear in the second episode of the new season, which begins Oct. 14.
Meanwhile, here at the Television Critics Press Tour in Beverly Hills, we just sat down with castmembers Julie Gonzalo and Loretta Devine, who gave the following not-yet-released details:
Julie Gonzalo: "Katie? We met her on Monday, and she's working today. She's playing a lawyer. She might only be for one episode."
Loretta Devine: "She just appeared in the seat (at the table read). I was getting that sushi. She's very quiet. Then Tom Cruise came with the baby and we left. We missed the whole thing."
Julie Gonzalo: "[Executive producer] Greg [Berlanti] worked with [Katie] on Dawson's Creek, and he said she was very nice and she was doing us a huge favor."
You gotta love a girl who remembers her roots. Bless you, Joey Potter.
Update, 9:45 a.m.: ABC President Steve McPherson just told reporters that Katie will sing! "There's actually some singing and dancing that she does, and it's exquisite," says McPherson of the episode, adding that, "She was fabulous. It's a great role for her." (McPherson was at yesterday's table read.) 
Says McPherson: "For a show that we really creatively believed in, it helps us from a promotional standpoint." He says Greg Berlanti "had a creative idea and a way to do it," and he and Katie wanted to get back together.
Obviously, this is a huge coup for a fantastic show, and should provide some well-deserved buzz and higher ratings for the new season.
See, George Michael was right, Eli: You do just gotta have faith!
Excited about Katie? And what do you want to know from the Eli cast and producers? Comment below with any questions. The Eli Stone session at TCA starts at 10:45 a.m., so check back for updates.