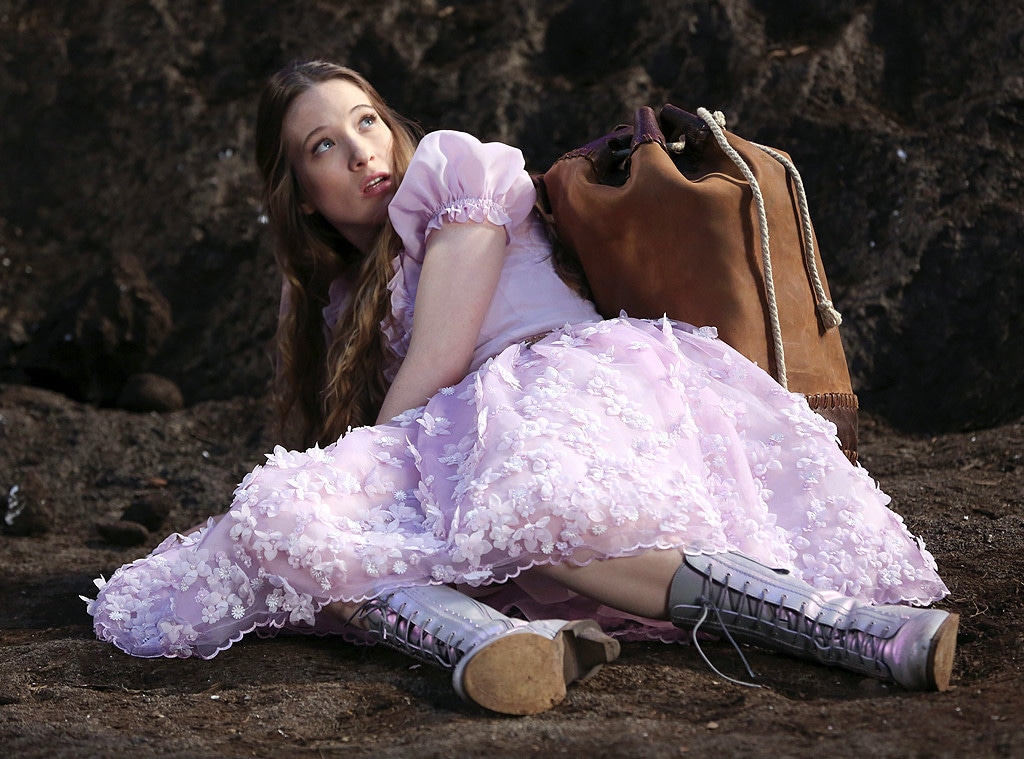 ABC/Jack Rowand
Get ready to fall head over heels down the rabbit hole!
There's a magical new spinoff headed to ABC this fall and we've snagged everything you need to know about the characters, adventures and romance coming up on Once Upon a Time in Wonderland.
Wonderland creators Edward Kitsis & Adam Horowitz and the cast took the stage Sunday morning at the Summer TCA press tour to tease the highly anticipated new series, address the mad hatter rumors and reveal whether Wonderland will make it past one season.
Sophie Lowe stars in the wondrous new series as Alice, a character that ABC boss Paul Lee described as a the most "kick-ass" Alice fans have ever seen. The executive producers of Wonderland stress that they have always had a clear vision of what they wanted their Alice to be like. "We just love writing strong females. We never wanted Alice to be a damsel in distress," Kitsis says. Lowe adds, "She's tough, mentally and physically, and she can take care of herself."
However at the heart of Wonderland is a love story that has never been addressed in any other variations of the tale. Alice falls for a genie named Cyrus (Peter Gadiot) and fans will instantly see that these are two characters are truly the Prince Charming and Snow White of the series. Kitsis says, "They kind of complete each other." 
Originally ABC ordered a 13-episode season of Wonderland, however due to fan buzz and the massive success of Once Upon a Time, the creators are hopeful that we could be seeing more of this alternate universe in the future. 
"We're planning on telling a complete tale, with a beginning, middle and end. If it does well and people like it, then hopefully we'll be coming back and tell another adventure with the cast." Horowitz explains. "The plan would be to tell a string of episodes in the fall, then The Quest comes on and then we come back after that to finish out the duration of the season."
This new series was developed because OUAT creators felt that Wonderland is a world that needs it's own bright spotlight. Kitsis says: "We saw a bit of Wonderland in the Mad Hatter story and obviously with the Queen of Hearts but I think you'll see with this is that we really loved Wonderland and we felt like we didn't show Alice and a lot of the world."
Like its flagship series, Once Upon a Time in Wonderland will feature many flashbacks and parallel tales, however the creators want to stress that fans do not necessarily need to follow both series to get the full enchanting picture. 
"We think this show has it's own mythology that is really not dependent on the mothership," Kitsis says. "Wonderland has its own unique vibe in the way that Storybrooke has its own vibe. I think for us Wonderland is like a psychedelic romance and it's trippy and it's weird but it also has some real characters and humor and romance."  
The creators promise that if you willingly fall through the looking glass in the premiere episode, then you will be rewarded with a fun hour of storytelling. "We're going to actually go into Wonderland and we're going to get a sense of the world now with Alice's return." Kitsis reveals, "You are going to meet Jafar, you are going to get more of the Red Queen, and you're just going to get more sense of the world."
And speaking of the Red Queen, let's just clarify a few things for all you Wonderland lovers out there. The Red Queen will be played by the gorgeous Emma Ribgy and should not be confused with the former ruler of Wonderland, The Queen of Hearts, also known as the wickedly evil Cora (Barbara Hershey). 
The creators explain that even though Cora was killed in Storybrooke, does not mean that we won't see her in Wonderland. "We do hope to have Barbara Hershey back in flashback because with this show it's very similar to the other show in that we will tell the flashbacks of these characters before the present day story that's taking place in Wonderland," Kitsis says.
So with the Queen of Hearts likely traveling to Wonderland, many fans are crossing the fingers and toes that our beloved Mad Hatter (Sebastian Stan) could be returning as well. Unfortunately, due to Stan's beyond busy schedule, it looks like the top-hat enthusiast won't be making an appearance this season.
"We would move heaven and earth to get him to come back in either show," Kitsis explains. "We're never going to have a Mad Hatter that isn't going to be played by Sebastian, so we're not recasting him. We're just going to keep that seat empty because he's a special talent."
Don't miss the series premiere of Once Upon a Time in Wonderland Thursday, Oct. 10 at 8 p.m. on ABC.