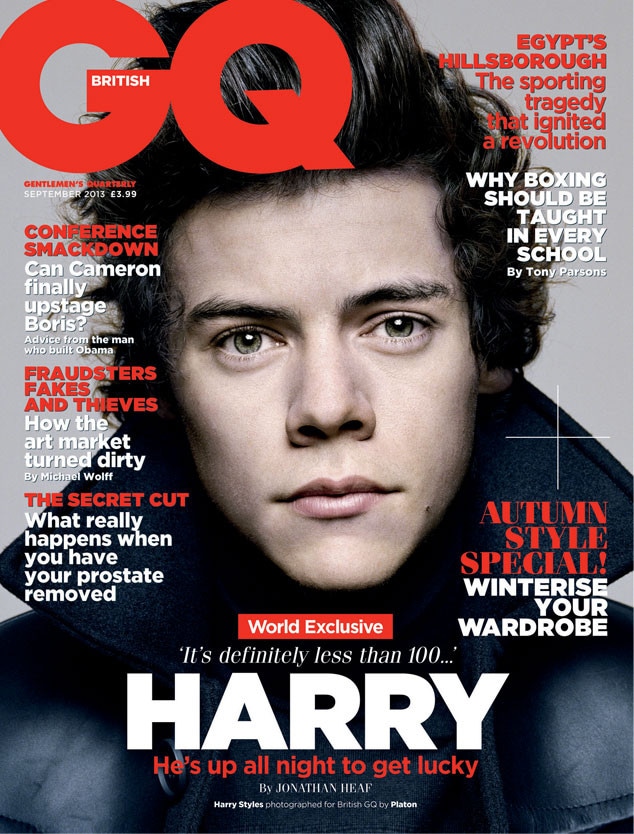 Platon/GQ
Are you ready? Harry Styles has revealed his number (oh yeah, you know what number we're talking about).
During an interview for the September issue of GQ U.K., the One Direction hunk spilled the beans on how many women he's had sex with, and you may be surprised with his answer.
"It's definitely less than 100…Yes, lower than 50…I'm not doing this! You're cornering me!" he said before finally giving in.
After being asked if it was less than 10 people, Styles reportedly said, "Yes. Two people. I've only ever had sex with two people. That's my answer. Read from it what you will!"
Did you get that? Harry Styles, the heartthrob from One Direction, has had sex with only two people. Now, of course, the only remaining question is who?! But he didn't go that far.
However, if you want to play the guessing game with friends, remember that Styles has dated Taylor Swift (obvs!) and Kimberly Stewart, and been linked to a number of beauties in between.
Harry also sounded off on the constant gossip about his sex life and whether such rife speculation ever affects him, including the claims that the boybander is bisexual, "Bisexual? Me? I don't think so. I'm pretty sure, I'm not."
Styles continued, "Some of [the rumors] are funny. Some of them are ridiculous. Some of them are annoying. I don't want to be one of those people that complains about the rumours. I never like it when a celebrity goes on Twitter and says, 'This isn't true!' It is what it is; I tend not to do that."