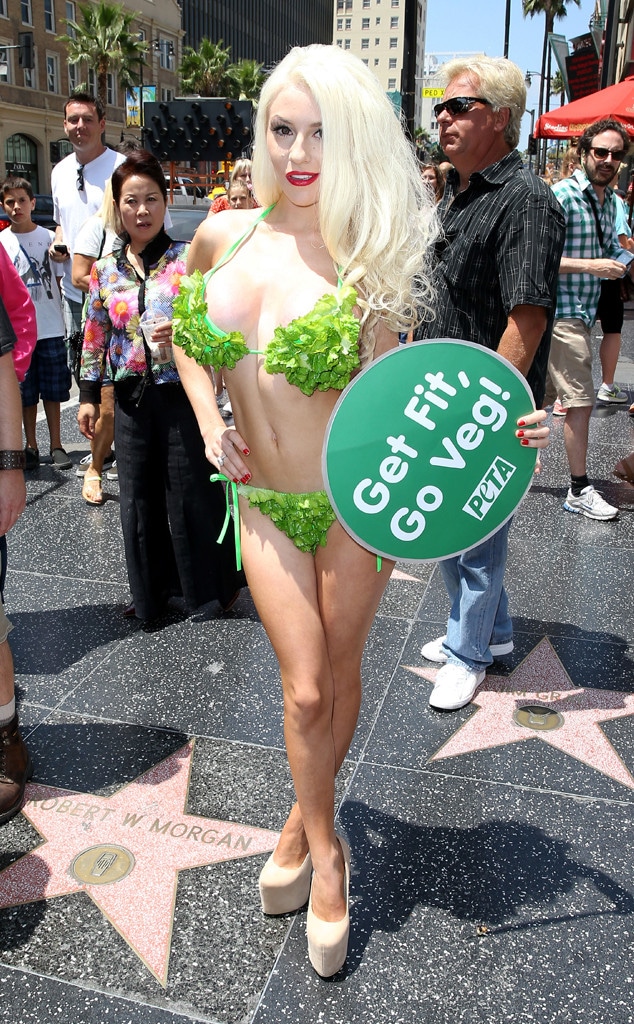 GEVA/AKM-GSI
Well, this is one way to go green.
Courtney Stodden was spotted strutting her stuff in a bikini made entirely out of lettuce earlier today in Los Angeles. But the risqué attire wasn't just for fun, she was making a statement on behalf of PETA.
She is the latest celeb to show her support for the anti-animal cruelty organization and she did it all in true-to-Stodden style.
The 18-year-old blond celeb filmed a PSA for PETA right on Hollywood Boulevard and held up a sign that read, "Get Fit, Go Veg!" She educated fans about the benefits of becoming a vegetarian and spoke openly about becoming an advocate for animal rights. 
While we're sure pedestrians got the message, they were most likely paying more attention to the scantily-clad star. And shockingly, this isn't the first time that a celeb has donned nothing but lettuce for a good cause.
Tia Mowry wore a lettuce apron in her print ad for PETA just last month.
"I became a vegan and I was getting bullied a lot on Twitter," the 34-year-old Mowry explained about her dietary changes. "There's a stigma about being vegan, some people say it doesn't taste great…Don't knock it till you try it!"
The former Sister, Sister star posed with a variety of fruits and veggies in footage from the campaign, flaunting her love of meat-free cooking and demonstrating how vegan dishes don't have to be dull.
"The more you learn about the benefits of being vegan, the more you become alive and the more you become aware of why it's a really great decision. Not only am I helping myself, I'm helping the animals out there, I'm helping the environment—going vegan, I feel great."
Maybe lettuce couture is the new summer trend?