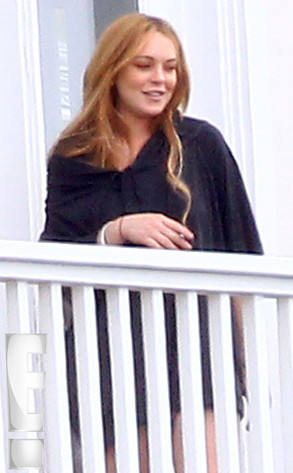 FameFlynet / AKM-GSI
UPDATE: E! News has learned that Cliffside Malibu Treatment Center has written a letter to the judge stating that Lindsay Lohan should have court-ordered therapy, in order to ensure her success with the program.
"We feel that it is critical that Ms. Lohan have court ordered therapy, specifically three fifty-minute sessions a week for the next eighteen months," the letter explains. "This should be done face to face while she is in town, and via skype or phone session is she is out of town."
The letter went on to dictate exactly why they feel this recommendation is necessary.
"Our entire clinical team is in unanimous agreement that if these sessions are not required by the court and attendance not verified once a month to ensure accountability, it is a set up for almost certain failure."
A source tells E! News that LiLo is currently at a private residence with her sober coach, and plans to stay there until her European vacation where she will promote her new film The Canyons.
________
What a difference a day makes. Or in Lohan's case, 90 days.
In the wake of the 27-year-old leaving Cliffside Malibu on Tuesday after completing her three-month sentence, her lawyer, Shawn Holley, tells E! News the actress is "doing amazing."
What's more, Holley says "it was [Lohan's] idea to have a sober coach with her. She is doing well. She is so positive and so focused on getting her life on the right track."
She added that Lohan will now only be required to attend three therapy sessions a week.
On Wednesday morning, Holley stood in front of Judge James Dabney at the Airport Courthouse in Los Angeles to show proof that Lohan had completed her 90-day in-patient lockdown treatment. Lohan herself was not required to be there.