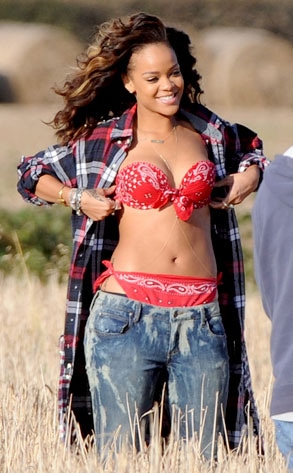 Photo Press Belfast / Splash
Rihanna has a good reason to smile.
A London judge has ruled in favor of the pop star in a lawsuit she brought against Topshop, accusing the British retailer of using a photo of her without her permission on T-shirts that it sold for a profit under the name "Rihanna Tank."
Per the BBC, in his two-minute judgment High Court Judge Justice Birss declared Wednesday that a "substantial number" of consumers were likely duped into purchasing the shirt because of a "false belief" that the "S&M" singer had endorsed the garment.
That's because the image Topshop acquired from a photographer was similar to photos taken of Rihanna during filming of a music video in Northern Ireland in 2011, which ended up being included in the CD sleeve of her album Talk That Talk. And RiRi's lawyers claimed that such use of her image on unauthorized tees was deceptive.
The judge agreed and added that the sales were damaging to her "goodwill" and had an adverse effect on her reputation in the "fashion sphere."
He was careful to note in his opinion, however, that there's "no such thing as a general right by a famous person to control the reproduction of their image."
"The taking of the photograph is not suggested to have breached Rihanna's privacy," Birss said. "The mere sale by a trader of a T-shirt bearing an image of a famous person is not an act of passing off. However I find that Topshop's sale of this T-shirt was an act of passing off."
The judge did not rule on the amount of damages the clothing giant has to pay.
Photo press Belfast/Splash News
Topshop said in a statement it was "surprised and disappointed" by today's judgment and "robustly" disputed the decision.
"There was no intention by Topshop to create the appearance of an endorsement or promotion," said the company, adding that it believed the t-shirt didn't convey any "false message" to its customers, nor was there any evidence of "consumer confusion" to support the judge's conclusion.
Topshop's statement added that despite reports that the hitmaker was seeking an award of $5 million, damages have yet to be determined.
Meanwhile, after wrapping up the European leg of her Diamonds world tour in Helsinki, Finland, Rihanna is gearing up to play a series of shows in Asia starting in Macau on Sept. 13, with stops in the Philippines and Singapore before a swing through Australia and New Zealand.
She then returns to the U.S. for another round of concerts kicking off on Nov. 9 in Denver.
(Originally published on July 31, 2013 @ 7:10 a.m. PT)