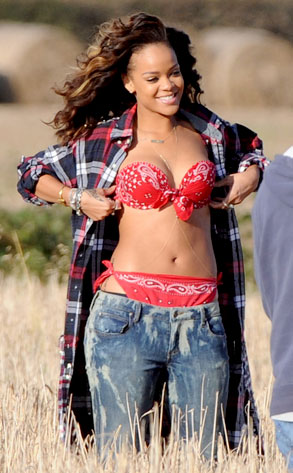 Photo Press Belfast / Splash
Rihanna has a good reason to smile.
A London judge has ruled in favor of the pop star in a lawsuit she brought against Topshop, accusing the British retailer of using a photo of her without her permission on T-shirts that it sold for a profit under the name "Rihanna Tank."
Per the BBC, in his two-minute judgment High Court Judge Justice Birss declared Wednesday that a "substantial number" of consumers were likely duped into purchasing the shirt because of a "false belief" that the "S&M" singer had endorsed the garment.
That's because the image Topshop acquired from a photographer was similar to photos taken of Rihanna during filming of a music video in Northern Ireland in 2011, which ended up being included in the CD sleeve of her album Talk That Talk. And RiRi's lawyers claimed that such use of her image on unauthorized tees was deceptive.