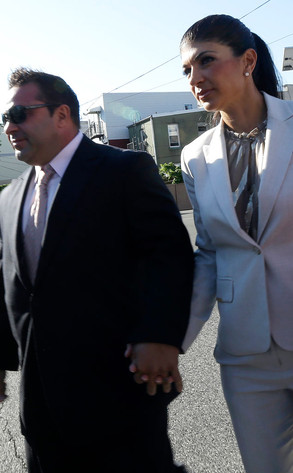 AP Photo/Julio Cortez
It sounds like Teresa Giudice isn't letting the fraud charges, 39-count indictment and this morning's Newark court appearance alongside husband Joe too seriously. At least, the severity of the situation hasn't seemed to hit her yet.
According to a source close to the Real Housewives of New Jersey star, Teresa is currently "in denial" about the legal mess. "Right now, she's acting like everything's fine," the source tells E! News exclusively.
"What shocked her was the number of photographers outside the courthouse and outside her home right now," the source continued. "She had no idea it was that big of a story and can't understand why everyone is so interested. She's not grasping the seriousness of the situation."