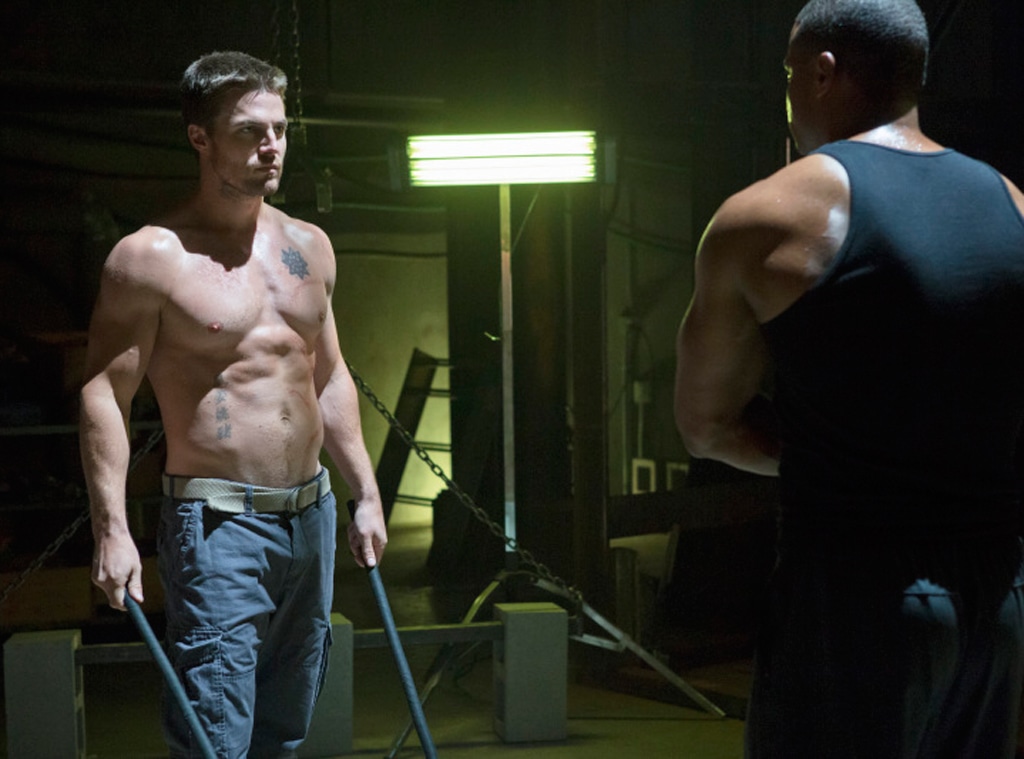 Jack Rowand/The CW
Watch out Oliver (Stephen Amell), there's a new superhero coming to town!
Arrow's creative team is looking to introduce Dr. Brett Allen, aka the Flash, in season two with the hopes of eventually giving the character its own spinoff, CW president Mark Pedowitz revealed at the network's presentation 2013 Summer TCAs Press Tour. 
Pedowitz dished on the casting process for the buzzy new role and what fans can expect from the Flash's introduction into Arrow's world, as well as the debut of the Black Canary...including why Laurel (Katie Cassidy), who was the iconic superhero in the original DC Comics, isn't donning the tights! 
Pedowitz reveals that the producers are "beginning to cast" the role and says, "He'll appear sometime this fall and then onward into next year."
As for the casting process, Pedowitz says he isn't looking to land an established star for the buzzy part. "I'm from the old school and I think TV creates stars," he says. "So if we get a name, great; if we don't get a name he'll become a name."
Similar to Roy Harper (Colton Haynes), who becomes the Green Arrow's sidekick in the comics, Dr. Brett Allen may come in without superpowers, so fans can see him eventually become the Flash. "There's a big DC universe where super-powered character do intersect and don't intersect," he says. "But remember, it's an origin story so he may not come in with superpowers."
Of course, the DC universe is filled to the brim with characters that could easily headline their own spinoff, but Pedowitz felt the Flash would be the best fit for the world already established on Arrow. "I came to a point and said, this would be a great character to do and we felt that the best way to launch this charter would be as an origin story on Arrow," Pedowitz explained. 
There's also another superhero being introduced in season two that fans are eager to meet: Black Canary, who will be played by Caity Lotz, at least at first. Of course, the casting caused some eyebrows to be raised as Laurel became the Black Canary in the comics, but Pedowitz spills that Lotz's character will have major ties to Laurel. 
"I hope she brings a certain amount of conflict since she's playing the sister of Laurel Lance," he reveals of the new character, who he wouldn't confirm or deny is actually the Black Canary. "It's an origin story. I don't know if this character is the Black Canary or not the Black Canary, so it is in origin story. But remember, Laurel Lance was the Black Canary in the DC universe."