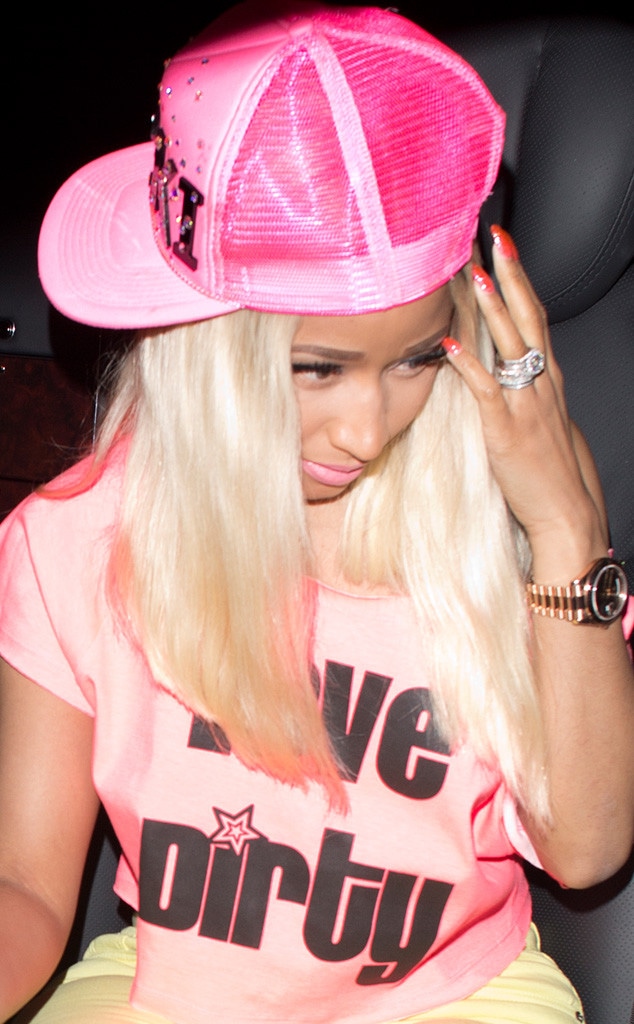 SPW/Splash News
Nicki Minaj was spotted leaving dinner in Los Angeles with Real Housewives of Atlanta star Nene Leakes over the weekend and all eyes were on one thing: the "Starships" singer's diamond rings.
Minaj's blinged-out finger took center stage as the two unusual pals dined at hot spot Crustacean among other gal-pals.
So did the rapper officially accept DJ Khaled's proposal or is she trying to send the message that she's off the market? Let's investigate…
Just last week, Khaled popped the question during an interview with MTV News and presented Minaj with a 10-karat, radiant-cut ring worth approximately $500,000.
"Nicki Minaj, I'm at MTV. I love you. I like you. I want you. I want you to be mine. I'm here at MTV because it's a worldwide network," he said via video. "Only reason I'm not telling you this face to face is because I understand that you're busy. Ima be honest with you, I wanna marry you."
And while viewers were skeptical that the famous DJ was pulling a prank on everyone, it quickly became apparent that he was being completely serious.
"Nicki Minaj, will you marry me? We got the same symptoms, we both suffer from success. You out there touring, you're out there hustling, you're out there making music and you're out there winning. And I understand."
Minaj didn't make any public comments regarding the proposal, but she did actually retweet the video on her Twitter account…so that's a good sign for Khaled, right?
Well, maybe and maybe not.
It seems like the Minaj's most recent accessory has been decorating her finger for quite some time now, and it isn't the same ring that Khaled proposed to her with.
Back in early July, the singer was spotted wearing the same sparkler while promoting her new fruit drink, Myx Fusions Moscato, in New York.
No word yet on whether or not the ring is a gift from Minaj's longtime boyfriend, Safaree Samuels, or whether these two are set to walk down the aisle anytime. It looks like Khaled is probably going to have to take a hint!