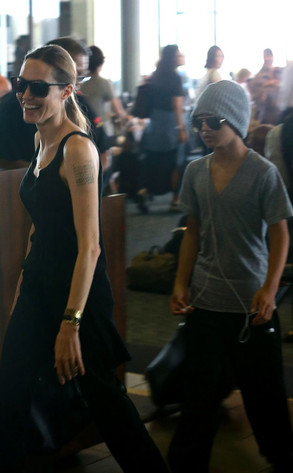 FlightRisk/AKM-GSI
This is perhaps too close for comfort.
E! News has learned that Angelina Jolie and Brad Pitt's vehicle was broken into while parked at a local paintball park.
Giovanni D'Egidio, co-owner of Hollywood Sports Paintball Park, confirmed that the couple's son Maddox Jolie-Pitt arrived with some friends and a bodyguard a little after noon on July 20. About 30 minutes after they arrived, a suspicious white Toyota truck pulled up next to the black SUV that Maddox's party arrived in.
D'Egidio told E! News, "Our security guys noticed and kept an eye on the vehicle," after the suspect parked his truck parallel and blocked Brangelina's SUV.
"It was kind of strange. It was like he knew what car to hit and what he wanted. The truck was moving very slow. He then got into the SUV and started heisting stuff," D'Egidio added.