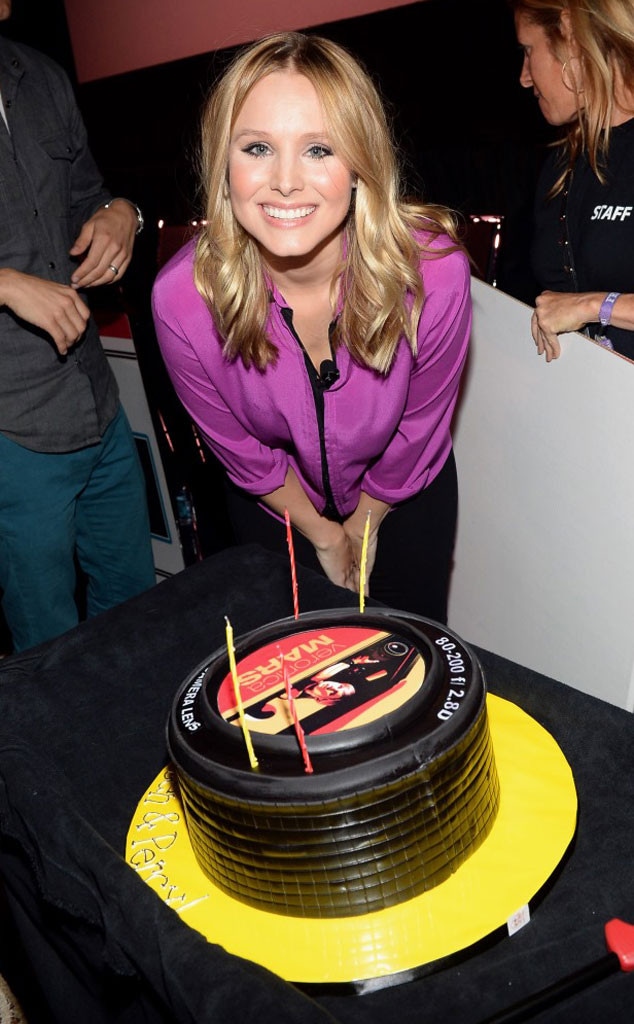 Courtesy: Michael Buckner/Getty Images
Just us, or the Veronica Mars movie cannot get here fast enough?
We all have to wait until "early 2014," but Kristen Bell assures us it is worth the wait.
"[Creator] Rob Thomas took a lot of time in thinking what the fans would want," Bell told E! News. "And he really delivered. It's really good." Yeah, well, anyone who's seen the trailer (18 times) like us, can attest to that, too.
Watch:
Kristen Bell Reprises Veronica Mars Role
The much loved 33-year-old actress got emotional at the Samsung Galaxy Fan Experience, talking about the movie's historic start via Kickstarter, raising more than $5.7 million. "It's an absolutely dream come true," Bell gushed. "We were somehow lucky enough that people who watched the show wanted to give us their hard-earned money and say, 'Here, will you do this?' and we were just overjoyed."
Bell, whose daughter Lincoln is just three months old, admitted it was not easy being away from her newborn, but it was worth it to shoot the movie, which wrapped production last week in Los Angeles. "It was hard because I always wanted to be with the baby a ton," Bell told E! News. "But also I was so excited to be with my friends again. It's almost too much joy if that's possible!"
She was also quick to defend Chris Lowell (Piz), who created a passionate fan uproar when photos were released of him with Kristen Bell on set. Piz was the "other man" in the show's core love triangle with Veronica (Bell) and Logan (Jason Dohring).
"People don't love Piz as much as we love Piz," Bell said with a laugh. "There's an epicenter of the show Veronica Mars and that's Veronica and Logan's relationship, so poor Piz gets the brunt of it."
Earlier in the night, Bell and Thomas and the rest of the VM crew met with fans to give movie scoop and partake in a hilarious round of "I've Never."  Biggest revelations: Bell donated her own money to the movie, and she also once played a prank on co-star Teddy Dunn (Duncan), giving him script pages that he would have to make out with Jason Dohring.
Bell also got teary-eyed, thanking the fans for all their support. 
"Just thank you thank you thank you. Thank you for letting us do this again. We're so genuinely thankful."