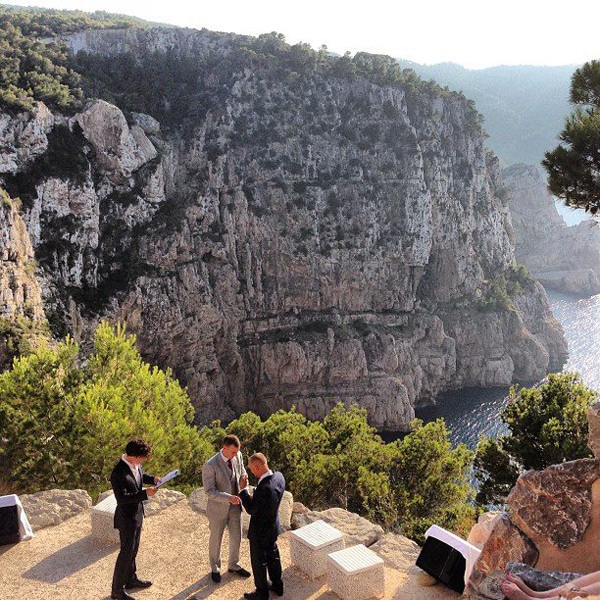 Facebook
Benedict Cumberbatch: Sherlock star, Emmy-nominated actor and...gay wedding officiator!
Over the weekend, the 37-year-old Brit hunk presided over the civil ceremony of two of his male pals in Ibiza, Spain. A fellow wedding guest shared pics of Cumberbatch marrying the couple on Facebook.
"The marriage of Seth Cummings to Rob Rinder conducted by the recently ordained Benedict Cumberbatch at the Hacienda Hotel Ibiza," the wedding goer posted, along with gorgeous pics of the lovebirds and Cumberbatch standing on a cliff overlooking the Mediterranean Sea during the ceremony.
For his officiating gig, Cumberbatch wore a black suit with a white button-down dress shirt opened at the collar.
Last week, Cumberbatch opened up about his big wedding gig to Vulture ahead of the ceremony.
"It's a very private, lovely thing to be asked to do," the Star Trek Into Darkness star said. "Of course, I'm going to make a joke after it, 'I do weddings. Next will be children's parties and bat mitzvahs,' if it goes well. It's a mainly Jewish and gay audience, so hopefully they will be lenient towards me."