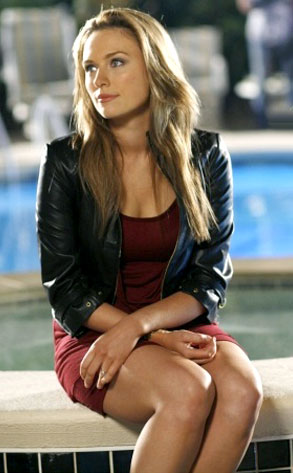 Fred Norris/The CW
Well, here's a fun riddle for you savvy mathematicians:
The lovely Michaela McManus (One Tree Hill's Lindsey and former receptionist at our E! building gym) has just been cast as a series regular on Law & Order SVU, playing the new assistant district attorney.
Meanwhile, you may remember that Lucas (Chad Michael Murray) called up and proposed to someone in the latest OTH season finale—either Lindsey or Peyton or Brooke.
What does this all add up to? The OTH writers crying in a corner somewhere.
At least, that's my guess, since not only is the loss of Michaela a, well, loss, but  this casting news sure seems to point to a Lucas/Peyton or Lucas/Brooke pairing—or at the very least, a not-so-bright future for Lucas and Lindsey.
In the meantime, what do you think of Michaela's new gig? SVU is lucky, no? And more importantly, the money Q: Whom will Lucas choose? Comment below!