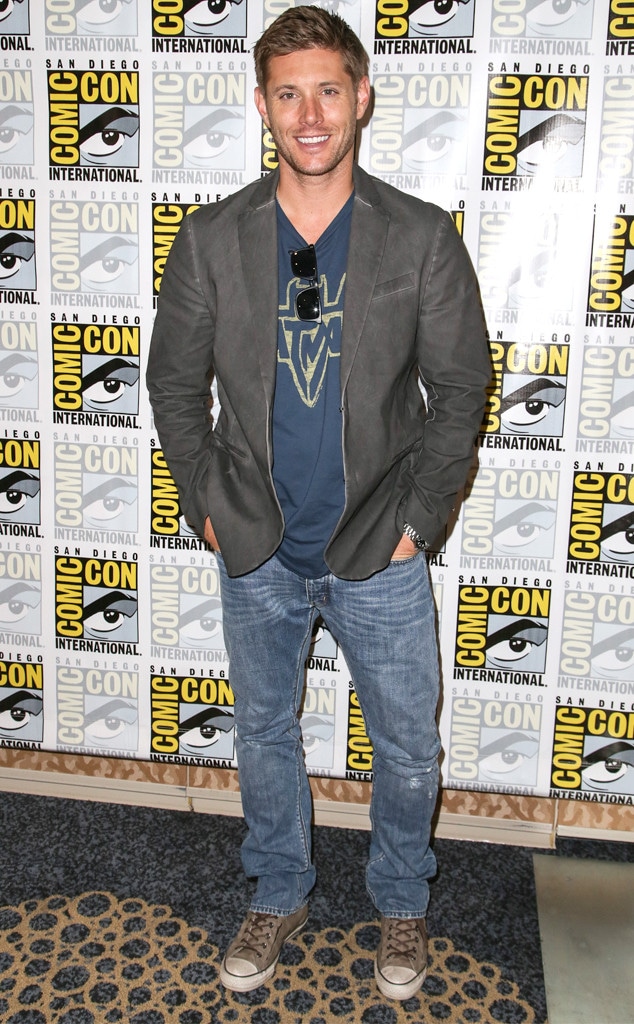 Chelsea Lauren/WireImage
Hey, Warner Bros., no need to begin a casting search for your Batman/Superman movie you announced at your Comic-Con panel, we've got you covered.
Yes, geeks are already foaming at the mouth for any news on the Man of Steel follow-up, which will once again star Henry Cavill as Superman and co-star Batman, and Supernatural star Jensen Ackles wants it to be known that he is totally ready to tackle the role of Bruce Wayne! Not only does the actor have ties to the iconic DC superhero (he voiced Red Hood in the animated film Batman: Under the Red Hood), he rocked a Batman t-shirt at Comic-Con 2013!
We chatted with Ackles after Supernatural's panel at the Con, where he showed off his shirt with pride, asking fans, "What do you think?!" Cue deafening screams in 3...2...1....
Watch:
Humans Join the "Supernatural" World
"Any guy in his right mind would die to play Batman," Ackles says when asked if he'd love to tackle the role opposite Cavill. "It would be a dream come true. I won't hold my breath." 
Of course, Ackles does have his hands full as he's back at work on Supernatural's ninth season after welcoming a baby girl, Justice Jay, with wife Danneel Harris just last month. 
"It's been quite the adjustment. A friend of mine says it's a slightly different gear, and I said, different gear? No, you put it in park, you get out of the car, you get in a different car, you take a left down a wrong street; that's basically where I'm at now," Ackles explains of adjusting to life as a father. "I'm lost, I'm just completely lost. Season nine started and I got back to work where I at least had some sort of understanding of what's happening around me, but the baby's doing great and for me I think it's just going to be a lot more travel." 
Oh, what's that? You want some scoop on the upcoming season of Supernatural? How about what fans can expect from Dean and Castiel's (Misha Collins) relationship now that the fan favorite angel is now a mere mortal? 
"It's going to be interesting," Ackles teases of Dean's reaction to a human Castiel. "Castiel has been such a valuable tool to Dean over the past few years and I don't know if he's going to have him come clean his room; I don't know what's going to happen.
Ackles continues, "We don't quite understand the skill set that Cas has as a human yet. Are we going to have to teach him how to handle a gun? Are we going to have to teach him how to drive a car? We don't know...I'm kind of looking forward to see it! [Laughs.]"
Supernatural's ninth season premieres Tuesday, Oct. 15 on the CW.
Do you think Ackles should play Batman in the Man of Steel sequel? Sound off in the comments!