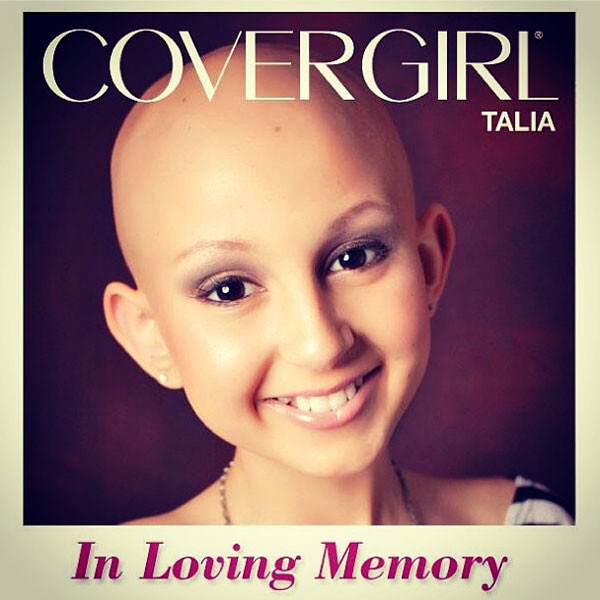 Instagram
Fans are continuing to honor the life of 13-year-old Talia Joy Castellano.
The young YouTube star, who lost her battle to cancer last week, created a bucket list before her untimely passing, and her mother has posted the list on Facebook, prompting a slew of Castellano's fans to help carry out the CoverGirl's final dreams.
Supporters of the young star have posted photos of themselves completing tasks from Talia's list on her Facebook page, ranging from getting a tattoo, drinking from a coconut and covering a car with sticky notes, using the hashtag #taliasbucketlist.
Angels for Talia/Facebook
There's even a Change.org petition to create a M.A.C makeup line of products in Castellano's honor (No. 62 on her list).
Castellano passed away July 16, 2013, after a six-year battle with neuroblastoma (an aggressive form of cancer). She chronicled her struggles on her popular YouTube channel, where she also posted makeup tutorials, amassing a major following of over 1 million subscribers.
The charismatic teen also garnered national attention after she appeared on The Ellen DeGeneres Show, where the comedian and CoverGirl rep surprised the style guru with her very own advertisement from the brand while also making her an honorary CoverGirl and presenting her with a $20,000 check from the makeup moguls.
"I am inspired by people like yourself. I think there are a lot of people who go through a lot of struggling situations, and despite what the doctors have said and the cancer you're going through, how do you stay so positive?" Ellen DeGeneres asked on her show.
"When people ask me that, what do you want me to do, be depressed? I mean a little fishy told me, 'Just keep swimming, just keep swimming!'" Talia responded, referring to Ellen's character Dory in Finding Nemo.
After Talia's tragic death, CoverGirl issued a statement. "We are honored to have known Talia and grateful for all the ways she showed us what true beauty means," the company said. "She inspired millions with her strength, personality and talent. Talia has touched our CoverGirl family forever, and we're thankful to have been a part of her life. Our hearts go out to her family and friends during this difficult time."
Ellen also expressed her condolences, taking to Twitter to publicly grieve.
"This year I met a very special girl, and today we lost her. Sending my heart to Talia's family," she wrote with a heavy heart. "I'm so sad."
And Sofia Vergara also took to social media to share her sadness over the tragic loss, "My heart and thoughts are with Talia, the most beautiful & inspiring @Covergirl ever and with her loving family and friends #RIPTalia," the Modern Family star tweeted.
Sending love to the inspirational teen's family and friends.