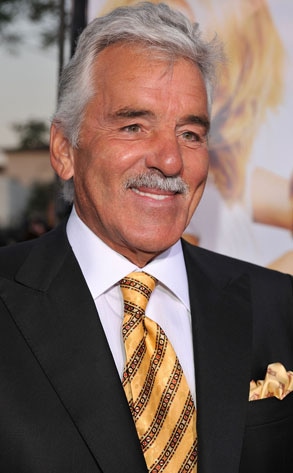 Lester Cohen/WireImage.com
Dennis Farina, who was a police officer in Chicago before becoming one of Hollywood's most versatile actors, has passed away. He was 69.
His publicist confirmed to E! News that Farina died suddenly on Monday morning in Scottsdale, AZ, of a blood clot in his lung. His companion of 35 years, Marianne, was by his side.
Known for playing primarily tough guys, Farina appeared in several films including Midnight Run, Get Shorty, Out of Sight and Saving Private Ryan.
He also had an equally impressive track record on televison. Among his most memorable roles were as Lt. Mike Torello on the popular 1980s series, Crime Story, as well as that of Detective Joe Fontana on Law & Order.
"I was stunned and saddened to hear about Dennis' unexpected passing this morning," Law & Order executive producer Dick Wolf said in a statement to E! News. "The Law & Order family extends sympathy and condolences to his family. He was a great guy."
Farina was most recently on the HBO drama series Luck and appeared on NBC's New Girl.
According to his rep, in lieu of flowers, donations can be made to The 100 Club of Chicago.
Funeral services are pending.