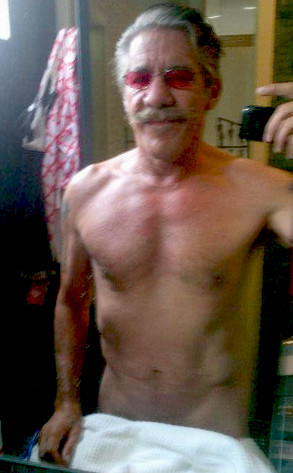 Twitter
Some things you just have to see to believe...
Geraldo Rivera took selfies to a whole new level today when he posted a semi-nude pic of himself on his Twitter account.
He captioned the rather revealing pic, "70 is the new 50" and added that he's going to land in a bit of hot water for showing the public his bod.
"Erica and family are going to be so pissed...but at my age..." he added.
But wife Erica took it all in good humor, however, telling E! News exclusively, "This is exactly the kind of thing that happens when I fall asleep first...Thank god we have towels in the bathroom. But I'm proud my husband looks so hot!"
Geraldo appears in front of a mirror wearing a pair of rose-colored lenses (oh, the irony) and covering himself with a towel—a really, really well-placed towel.
And there's no doubt that he's got a great bod for someone his age, but that didn't stop a few celebrities from speaking out on the latest selfie scandal.