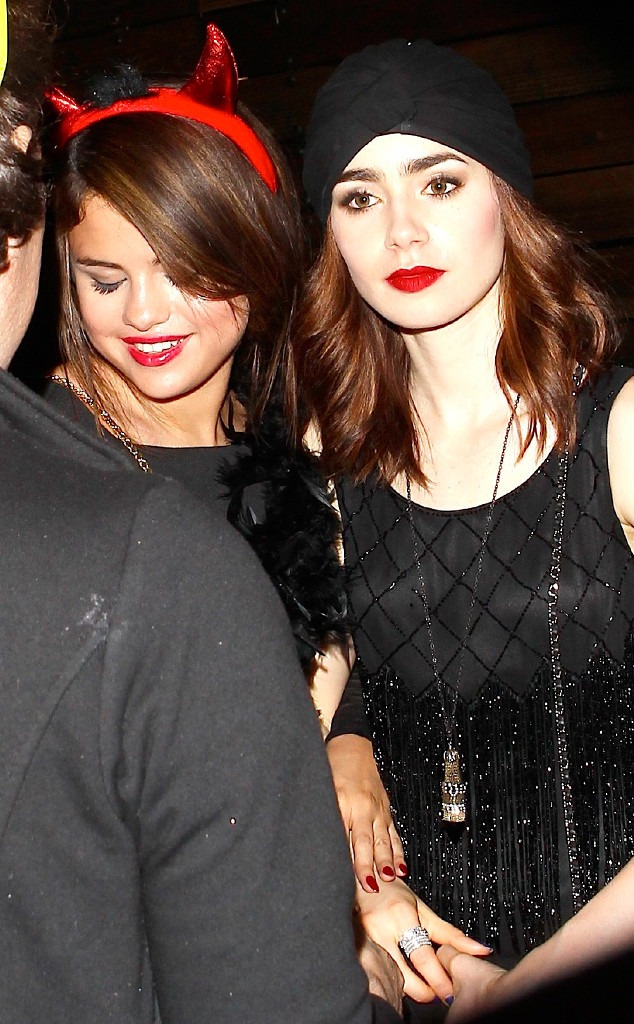 Maciel-twist/X17online.com
Girls' night out!
Selena Gomez and gal pal Lily Collins were spotted dancing the night away at Hollywood's swanky Roosevelt Hotel Saturday night.
The girls made their second stop of the evening after joining a bevy of stars at Julianne Hough's '20s-themed birthday party earlier.
Both ladies were in full costume for the evening affair, but Selena had one devilish twist to her ensemble.
The 20-year-old (who turns 21 on Monday) accessorized her LBD and feather boa with bold red lips and a headband of red horns that made her appear more bad girl than squeaky clean Disney starlet.
Meanwhile, Lily wore a turban and flapper dress in keeping with the evening's theme.
Julianne, who turned 25, posted a few fun-filled pics of the night on her Instagram. 
In one photo, she's seen posing with Jesse Metcalfe, his fiancé Cara Santana and two of her girlfriends.
She captioned the pic, "Champagne for everyone...Twirl your pearls.. Kick up your heels...Lets get this party started!"
"Celebrating a Qtr of a century! Wow!!!" she added.
She also added a short video to send a message to her friends and fans saying, "This has been the best birthday ever!!!! I love my fans!!! Lets go party!!!" 
Twilight beauty Ashley Greene was also in attendance and took to Instagram to show off her costume. 
The actress looked fab in her pearl necklace, side-swept hairstyle and sequined dress as she stood beside her best friend.
Now this looks like quite a party! We'll just assume that our invitation got lost in the mail...