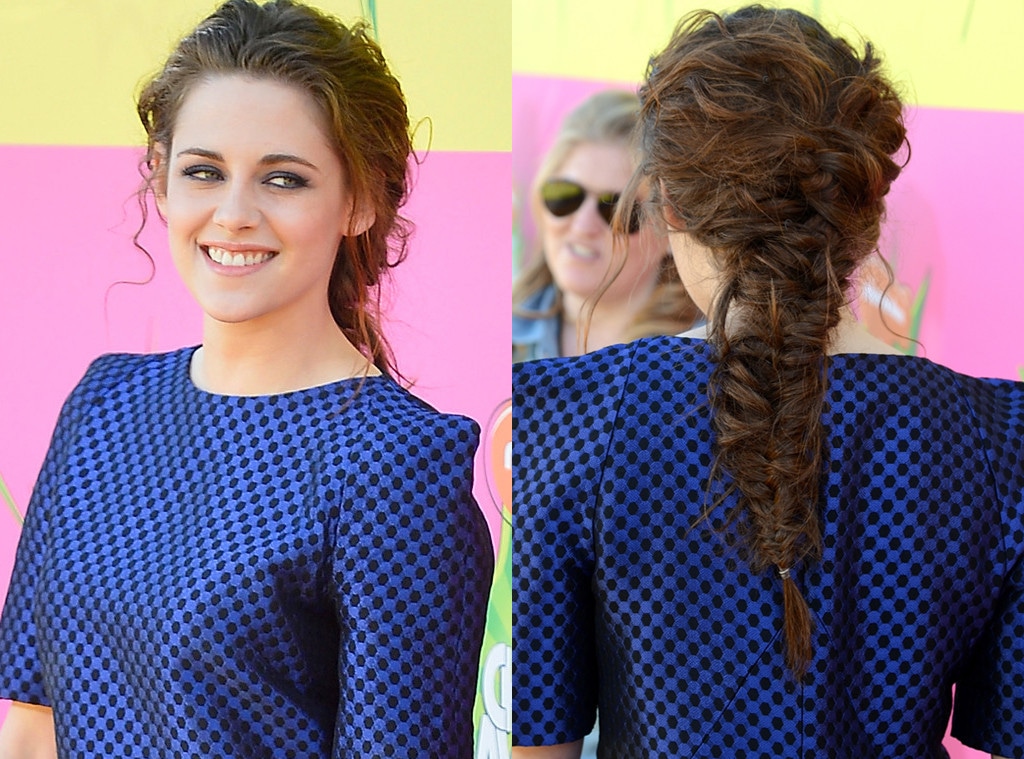 Frazer Harrison/Jeff Kravtiz/Getty Images for KCA
Long hair, don't care?
Not in the sweltering summer temps, when having lengthy strands can cause one to overheat!
Yep, summer is the season of sweeping locks away in cool—literally!—'dos. But if you're stuck in a style slump, we've enlisted the help two hairstylists from Los Angeles' Assembly Salon, which specializes in creating head-turning braids and ponytails, to help us recreate some of the best summer-ready hairstyles we've spotted on our fave celebs! And we've even included one down 'do for those summer nights when you feel like letting loose.
Messy Fishtail: For an alternative to the traditional braid, you can't go wrong with a fuss-free style, like the one Kristen Stewart wore to the 2013 Kids' Choice Awards. 
Jason Merritt/Getty Images, Splash News
Pretty Ponytail: No surprise here. The woman who helped launch "The Rachel" hair craze, stepped out in one of the sleekest ponytails we've seen all year back in April.
And according to Assembly stylist Dee Eiwasian, the chic updo is pretty versatile. "This hairstyle is perfect for every hair type and face shape because you can personalize it by leaving bangs out or pulling it all back, and tease it to make it extra voluminous," she says.
Here's how to get the look:
Spray wet hair with heat protectant, like Kevin Murphy Damage.Manager, to keep strands healthy. Blow dry hair and follow with flat iron if desired.
Leave bangs out and pull hair back into a ponytail. (Tip: Use comb to smooth hair back into the ponytail.)
Secure pony with a hair band.
Take a small section of hair from the bottom of the ponytail and wrap it around the hair band. Secure underneath ponytail with bobby pins.
Dimitrios Kambouris/Getty Images
Tiered Ponytail: For a more unique ponytail, Eiwasian also gave us tips for recreating Blake Lively's oh-so-unique style at the 2013 Met Gala.
Here's what you have to do:  
Use hair volumizing foam, like Kevin Murphy's Body Builder, to thicken hair and then blow dry
Pull top section of hair into a medium-height ponytail. Wrap small section taken from bottom of ponytail around the hair band and secure with bobby pins underneath the ponytail.
Create another ponytail using the middle section of your hair. Secure second ponytail along with remaining hair from first ponytail with another hair band. Obscure elastic using the same method in previous step.
Create third ponytail using hair at nape of neck and repeat steps listed above.
Loosen up hair between the ponytails by gently pulling on strands
David Livingston/Getty Images
Volumized Top Bun: For a ladylike look that's just perfect for a summer wedding, try one of Lauren Conrad's go-to styles. 
Here's how Eiwasian, who recommends this updo for gals with full, medium-length hair, suggests you recreate the 'do: 
Use a volumizing lotion and blow dry hair upside down for added fullness
Put hair into a high pony and secure with a hair band.
Wrap hair around the pony and secure with bobby pins
Slowly and gently loosen the bun for a fuller and more undone look  
Dimitrios Kambouris/Getty Images
Side Braid: Edgy gals should take a style note from model Cara Delevingne, whose 2013 Met Gala braid gave the appearance of partially shaved head.
Hernandez gives us the skinny on how to recreate her rebellious style: 
Prep hair that you are going to braid with an anti-frizz product to give grip to you hair to make braiding easy
Part hair right above the arch of your brow
Continue part all the way down to your nape
Clip excess hair that you won't be braiding off to the side
Starting at the part, create a small rectangular piece and separate into three pieces
Cross the right outmost piece over the center, then add some hair to what used to be the right outmost strand (now the center).
From the right side, cross the leftmost piece over the center then add some hair to what used to be the leftmost strand (now center)
Continue braiding until you reach your nape
Continue your three-strand braid until the end and secure with an elastic
Using bobby pins secure braid under clipped hair
Unclip hair you parted to keep a clean braid 
Beachy Waves: There's nothing quite like the carefree waves one gets from spending a day by the sea. But for those of us who covet breezy strands like Kate Hudson's, but can't find the time to make it to sandy shores, Hernandez has given us a handy cheat sheet: 
Prep hair by spritzing with heat protectant and adding volumizer to roots. Hernandez recommends Kevin murphy's Damage Manager and Texture Master.
Use a half inch curling iron or wand
If using a curling iron, wrap hair around without putting hair in between the clamp
Wrap all of your hair by taking small sections. (Tip: The smaller the sections, the better.)
Run fingers through waves and spray with a texturizing spray for the best long-lasting beach waves. 
Milkmaid Braid: For a style as sweet as it is practical, opt for a quirky updo like Jennifer Morrison's gravity-defying braids.
Though it may look a little intimidating, Hernandez's tips prove it's pretty easy to copy:
Separate your bangs from rest of your hair
Part remaining hair into two large sections starting down the middle
Braid each section using the fishtail (see above) or three-strand traditional method
Pull one braid over the top of your head to reach the other ear and secure with bobby pins
Pull the second braid over the top of your head next to the first braid to reach the opposite ear and secure with bobby pins
Mist hair with hairspray to give your milkmaid braid a lasting hold