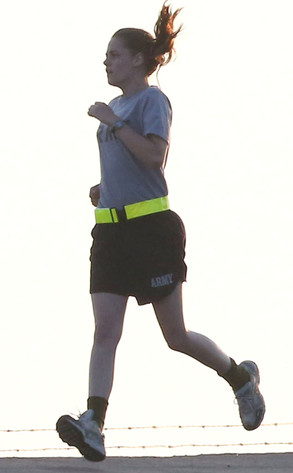 FAMEFLYNET PICTURES
Kristen Stewart is working it out in the army!
Well, not really. But the 23-year-old actress is breaking a sweat while filming scenes for her new movie, Camp X-Ray, in which she plays a soldier assigned to Guantanamo Bay.
In a pic taken of K.Stew while filming scenes in San Pedro, Calif. yesterday, the Twilight star is seen running in sneakers, black socks, black Army shorts and a gray Army T-shirt. Her military look was completed with a neon yellow belt and her dark hair is up in a ponytail. Barbed wire can be seen in the background.