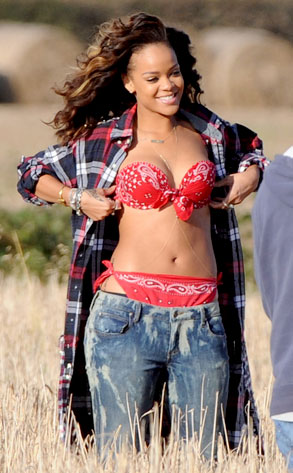 Photo Press Belfast / Splash
Rihanna is not messing around when it comes to protecting her sexy image and burgeoning business empire.
The hitmaker is suing Topshop for $5 million, accusing the British retailer of using a photograph without her permission that was taken of her on a video shoot in Northern Ireland in 2011 for T-shirts it sold under the name "Rihanna Tank."
Per the BBC, at a hearing Friday in London's High Court Rihanna's legal team argued that the sales of such shirts was "very similar" to pictures included on the CD sleeve of her album, Talk That Talk, and marred her reputation because fans may confuse the unauthorized tees as "genuine" merchandise put out by the pop star.
The suit against Topshop's owners, Arcadia Brands Limited, accused the firm of "passing off" its product as if RiRi had officially endorsed it.