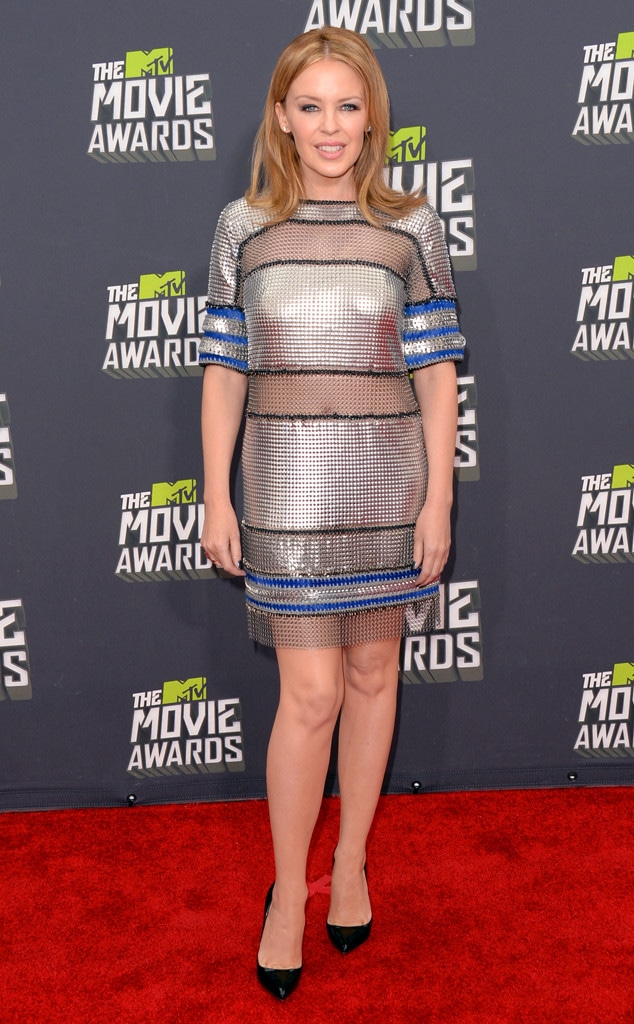 Jason Merritt/Getty Images
She exploded onto the music scene in 1988 with "The Loco-Motion," and 25 years later, Kylie Minogue's hitmaking pop train keeps chugging along and shows no signs of slowing down.
The 45-year-old Aussie charmer, who's released 14 albums throughout her prolific career, is gearing up for the arrival of her latest effort—her first after signing up with Jay-Z's Roc Nation label earlier this year.
And she's ready to give fans a small, succulent taste of what's to come. Minogue has debuted the first single from that deal: "Skirt," an infectious and thumping club banger that reveals a harder, driving sound than what we've come to expect from the syrupy-voiced siren.
"Well, that's just a little teaser, a little taster," she tells E! News during a refreshingly candid chat at a restaurant inside Manhattan's Saks Fifth Avenue, her tiny but voluptuous frame poured into a slinky black-lace minidresss.
Interestingly, despite her slinky persona, in person Minogue is less come-hither vixen and more girl next door, her smile deployed in generous bursts and her laugh unfurling with unaffected ease.
Minogue is here for a book signing to hype her new tome, a lavish coffee-table book called Kylie Fashion that collects her most iconic looks. And judging by the snaking line of breathless fans waiting outside, the Cult of Kylie has lost none of its faithful.
"I like to think of it as being the amuse-bouche of the meal," she says of "Skirt." "Your entire meal's not going to be like that; my album's not going to be like that."
And although the song's grinding grooves clearly put a fresh spin on the songbird's signature sound, Minogue admits those hard-charging beats "would be as hard as it gets," before adding: "I think my DNA is gonna be infused through the album, even if I didn't want it to be. It's there."
So how does one distill that sonic DNA?
"It would have some sparkle, some sex, some insouciance," she says of her new album, a follow-up to 2012's Aphrodite. "And joy—that's what I would hope. That's what people tell me...There's a lot to be said for making people feel good. That's, like, the most rewarding part of what I do."
ALBERTO PIZZOLI/AFP/Getty Images
The unnamed album—she's still in the process of exploring material and says she hopes to release it later this year—has yet to fully take shape, but she does know one thing: It won't stray too far from the one theme that's become a stalwart of her music.
"There will be still be a lot of love in there," she tells us as she goes over some of her past hits. "I mean, 'Can't Get You Out of My Head' is about an obsessive form of love. 'Love at First Sight' is the first moment of falling in love."
Minogue waits a beat before flashing a naughty smile and throwing this rowdy kicker: "I haven't decided to sing about the rainforest at this point."
She has, however, switched up the business side of things: Minogue, who won a Grammy in 2003 for her smash "Come Into My World" and who has notched eight No. 1 hits on Billboard's Hot Dance Club Play chart, signed with Jay-Z's Roc Nation in February.
Which leads to the inevitable question: a duet?
"Not collaborating with him, not at this stage anyway," she reveals.
She has, however, quickly taken to her new music family. "I think there's experienced people there, Jay-Z being one of them," Minogue says, giving props to a "dynamic group of young people" who help create "a real feeling of being a part of a family—you're in the Roc family, and that's really cool."
As for whether she'll hit the road anytime soon, well, you can't keep a good pop diva off the stage for long.
"Hell, yeah!" she says about her touring plans. "I don't know when, but maybe next year. But I always love the idea. Touring for me is the best."
No doubt, the throng of fans waiting patiently outside at Saks for their high priestess of pop—Kylie books in hand, ready to be autographed—won't argue with that.