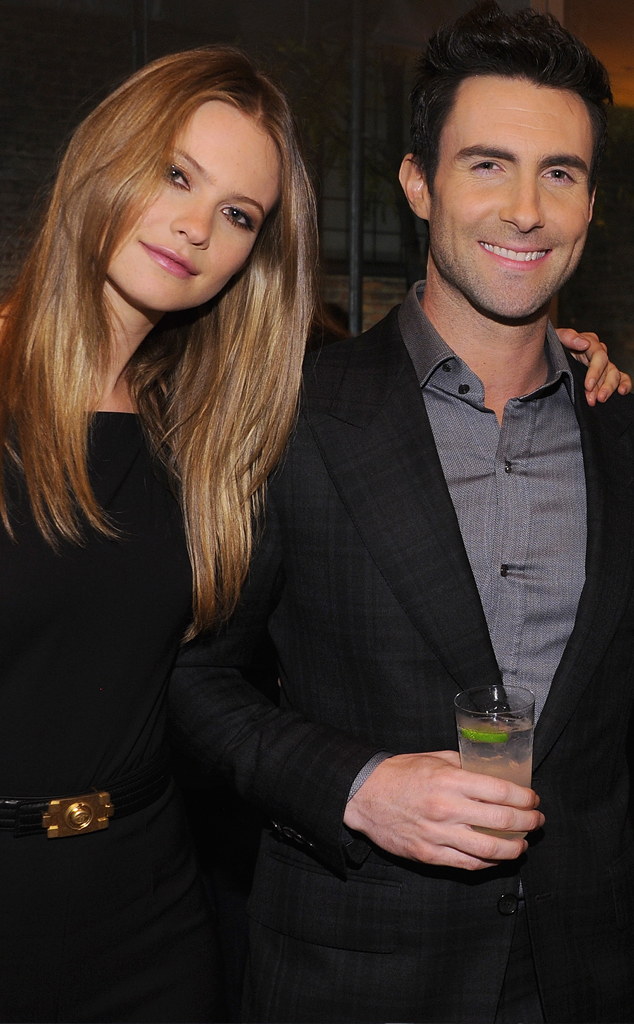 Dimitrios Kambouris/Getty Images for GQ
Adam Levine and fiancée Behati Prinsloo certainly make for an attractive couple.
The Maroon 5 rocker and Voice coach popped the question to the 24-year-old Victoria's Secret Angel over the weekend. Naturally, we're all a little insanely jealous of the blond beauty who gets to marry the hunky musician, but we're happy for her at the same time. 
Anywho, just who is Ms. Prinsloo? Here are five things to know about the future Mrs. Adam Levine.
1. She's a Preacher's Kid: "I grew up in a small town in Namibia. My dad's a minister and my mom runs a bed and breakfast," she told Fashionsta.com. "I'm an only child and pretty much did kid stuff, gymnastics, track, riding, field hockey. I hung out on my friend's farm a lot." She describes herself in her Twitter bio as "a born South African, raised Namibian." 
2. She Didn't Always Want to Model: In 2005, a then-16-year-old Behati was discovered by the daughter of Sarah Doukas, the scout who discovered Kate Moss, while on holiday in Cape Town, South Africa. In September of the same year, she made her runway debut at the spring Prada and Miu Miu shows in Milan and Paris. She told Fashion Television that the work found her, saying, "I never wanted to model." 
She acknowledges, too, that model life isn't all glitz and glam. "Living in model flats scarred me for life," she told Fashionista.com. "Girls are the dirtiest people ever. For the most part the flats would be empty. But then there would be older girls—and I was like 16—who would bring their boyfriends home which was strictly not allowed, and I would hear everything. Or I'd wake up in the morning and there would be like a man in his underwear on the couch. It was awful."
3. She's Acted, but Doesn't Quite Have the Acting Bug: In 2012, Behati played a Victoria's Secret model (not all that much of a stretch!) on Hawaii Five-0. But unlike some of her contemporaries, she's not overly eager to make the model-to-actress transition. "I think if the opportunity comes up, I'll definitely give it a go," she explained in an episode of The Couch. "It's not something i'm pursuing at the moment… But it's—it was just a fun thing that kind of came up, and I had the time, and it was Hawaii! I couldn't say no."
4. She Is, However, Very Interested in Photography: This girl doesn't only care about looking good in front of the camera—she likes working behind it, too! In 2010, Behati did a photo shoot of her friend and fellow model, Coco Rocha, and her then-fiancé, James Conran.  
"I only shoot film, mostly black and white, and I use a Nikon F10 and also the Contax G2 Jamie [Strachan, the male model she dated before she and Adam began their relationship in May 2012] got me for my birthday!" she told Coco in an interview for her blog.  "I love film. Helmut Newton's pictures are amazing and that's what I want! I think digital in some ways took away a photographers freeness. Not knowing what you have and seeing the pictures when you develop them is really nice. Every one comes out different, and I love the feel of film, the way it looks."
She also takes advantage of the talented photographers she encounters through her modeling work. "As soon as they see my old-school camera they grab it! I've learned a lot on shoots from everyone," she said.
5. She Has the Most Awesome Pet Ever: Even non-cat people will appreciate this: Behati is the proud owner of a hairless Sphynx cat named Gollum. Gollum!
Clearly, she's a cool chick. Adam Levine is one lucky dude.