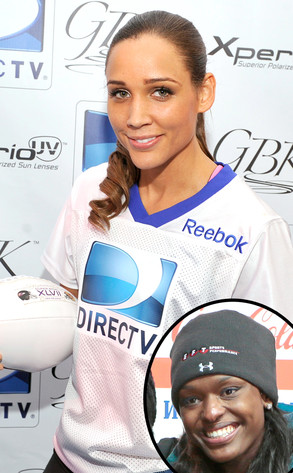 Getty Images; AP Images
Amanda Bird, Marketing and Communications Director for the U.S. Bobsled and Skeleton Federation, released the following statement to E! News and insisted Evans was not involved in any fight, but was at the bar during the time of said incident: "We treated the incident like we have with any other situation by investigating to see if there is a code of conduct violation. After speaking with the athletes and witnesses, we don't believe the team rules were violated. That could change if new information emerges, but we're not expecting that to happen at this point. We feel bad about the situation and we want to put this behind us and focus on winning medals in Sochi."
________
Lolo Jones allegedly got into a fight recently, but the supposed bar brawl wasn't as serious as first reported.
According to some reports, the incident happened last Friday night in Lake Placid, New York when the 30-year-old track and field Olympian turned bobsled athlete reportedly punched fellow American bobsled hopeful Aja Evans. Radio host Amy Van Dyken claimed during a recent airing of Fox Sports Radio that Jones even "knocked out" Evans during the fight.
However, the claims that Jones knocked out Evans or anyone else out during the fight have been shot down by the U.S. Bobsled and Skeleton Federation. "There was an incident that occurred on Friday night and our coaches are talking to the athletes and witnesses, which follows USBSF procedures," a spokesperson for the org says, according to NBC Sports.